Home > Street Marketing
Boost your communication with our advertising on backpack
We design original advertising solutions that allow you to do proximity marketing.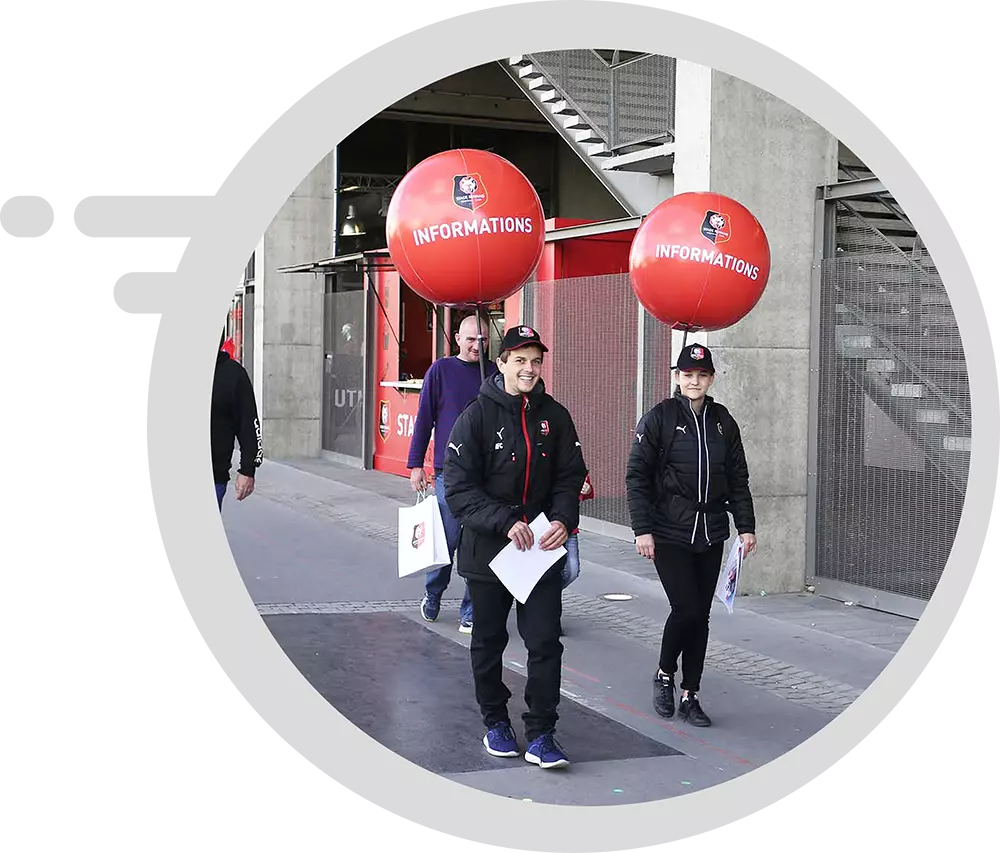 REQUEST A FREE QUOTE
for street marketing
Please fill in the following form and we will contact you shortly.
Target your customers with street marketing.
Street marketing is a promotional technique that ranges from the simple distribution of printed material in the street or in front of your store to a presence at large-scale events (sports competitions, music festivals, fairs, etc.). It allows to reinforce a communication of proximity, to create traffic and to boost sales.
For this new year, PUBEO offers you the means to highlight your street marketing operations or your sports animations in an original and personalized way. The objective of street advertising is to create the event, to surprise and to bring the brand closer to the consumers in order to make them pass alternative messages through the implementation of interactive animations intended to mark their minds.
We offer backpack balloons and backpack flags that allow your sign or brand to move in the street or in a show for example. You are closer to your audience and you can create a relationship of trust.
Also available, the advertising flag is ideal for an innovative outdoor communication. The beach flag is a very high quality design support which allows to communicate in outdoor for the launching of a new product or more simply to mark out commercial premises.
Through our wide range of products, we can perfectly meet your needs, so do not hesitate to contact us, we will do our best to meet your requirements!
Street marketing: 3 key products for better visibility
Are you looking for outdoor advertising objects adapted to your communication? Here are 3 essential products to increase the visibility of your brand and attract potential customers through street marketing: the backpack balloon, the mobile flag and the banner.
The backpack: meeting your target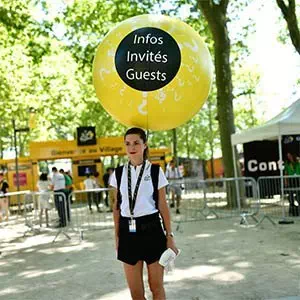 The backpack balloon, also known as a " walking balloon ", is a kind of traveling balloon: with your company's colors, this advertising balloon on a backpack goes around the city or between the stands of a trade show to create a buzz. Surprising and eye-catching, it is sure to arouse the curiosity of passers-by and the interest of potential customers. Attracted by this original object, your prospects will approach and ask questions to the hosts and hostesses wearing these backpack balloons: their questions about your brand, your products but also your news. Your ambassadors will also be able to easily distribute flyers to them.
Each backpack is lightweight and contains a balloon representing your company: made of PVC, it is inflated with air and attached to a black aluminum tube. The whole bag remains very discreet: the star to highlight is your company! Once installed, the tube allows the balloon, perched at the end, to be higher than the person wearing the backpack. The balloon is personalized with your visuals, your company's image is broadcasted in an aerial way and does not go unnoticed. Thus, your brand is unmistakable in the middle of the crowd.
This type of mobile advertising balloon is therefore an excellent street marketing tool. The walking balloon is a must-have in inflatable advertising! The people you meet on the street or at a trade fair do not need to come to your premises: on the contrary, it is your company that goes to meet them, thanks to the dynamic ambassadors carrying this backpack balloon. These hostesses and hosts can, of course, move around with a balloon with integrated lighting (optional), which is very useful for operations taking place in the evening, in winter or in closed environments. This personalized object of imposing size thus allows you an effective communication because it boosts your visibility.    
The backpack flag: all the sails out for your communication
The nomadic type of advertising flag also sits atop a pole attached to a backpack. This way, your ambassadors can travel around the city with the flag representing your company's name flying behind them on pedestrian streets or in a business district. They can also be placed in strategic, high-traffic areas.
These team members are visible from far away, thanks to this large flag well fixed in height. This is one of the types of street flags available on the market and allows you to highlight your image
These backpack flags ensure a great presence on trade shows or exhibitions, but also in the street. Like the walking balloon, the backpack flag represents an unusual and mobile object that attracts all eyes: an essential to increase the visibility of your brand! This street marketing technique, by its playful side, triggers a feeling of curiosity and confidence in your prospects. You immediately capture the attention of your target, by going directly to meet them. The public goes to your ambassadors who will then be able to provide them with all the information they need and also distribute leaflets or goodies.
The cost of these backpacks with a flag structure is much less than a traditional billboard advertising campaign on static signs. In addition, these sails are much more eye-catching and effective. The hostesses and hosts walking around with these flags fluttering in the wind immediately notice the attraction they create and are available to respond immediately to prospects who call out to them as they pass by. The backpack flag is truly an original communication medium that should not be overlooked. A portable advertising product that is sure to attract attention!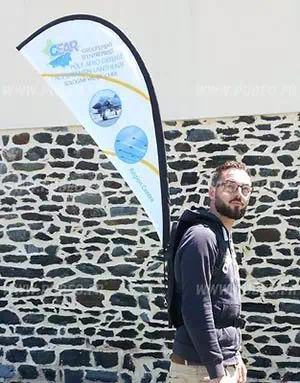 Oriflammes and flags: for a visible and attractive stand
At an exhibition or a trade show, stand out from the crowd! Guide your future customers directly to your stand, thanks to the personalized banners and flags highlighting your brand and your logo. These street flags are different from the previous one: here, you use them in static mode, whether outdoor or indoor. However, this type of sail also floats in the air and therefore attracts the eye with the same intensity. The shapes can be varied so you have a nice choice of banners.
Once the public arrives in front of your booth, you can meet your future customers, inform them and communicate about your brand, your products or services. These prospects have been guided by these flags visible from afar and come straight to listen to you! Customized banners and static flags are indeed a street marketing technique that has been proven for decades and is still as interesting as ever to get noticed and to animate a stand.
This indestructible visual easily finds its place on many other occasions, not only at trade shows or exhibitions. This type of signage allows you to draw attention to your store from the outside, to welcome visitors entering your premises, to indicate the entrance to a swimming pool, to present your activity on the beach (hence the name " beach flag "), to make customers of a hypermarket come to you to taste your products... and many other occasions. A banner with your image highlights all the communication of your company.
The walking balloon, the mobile flag and the banner remain essential to attract attention, to make yourself known and to reinforce your image thanks to your proximity to the customers.