Home > Inflatable Structures > Inflatable Dome
Inflatable dome or igloo for marketing
Inflatable structures in the form of domes or inflatable igloo for your outdoor marketing operations.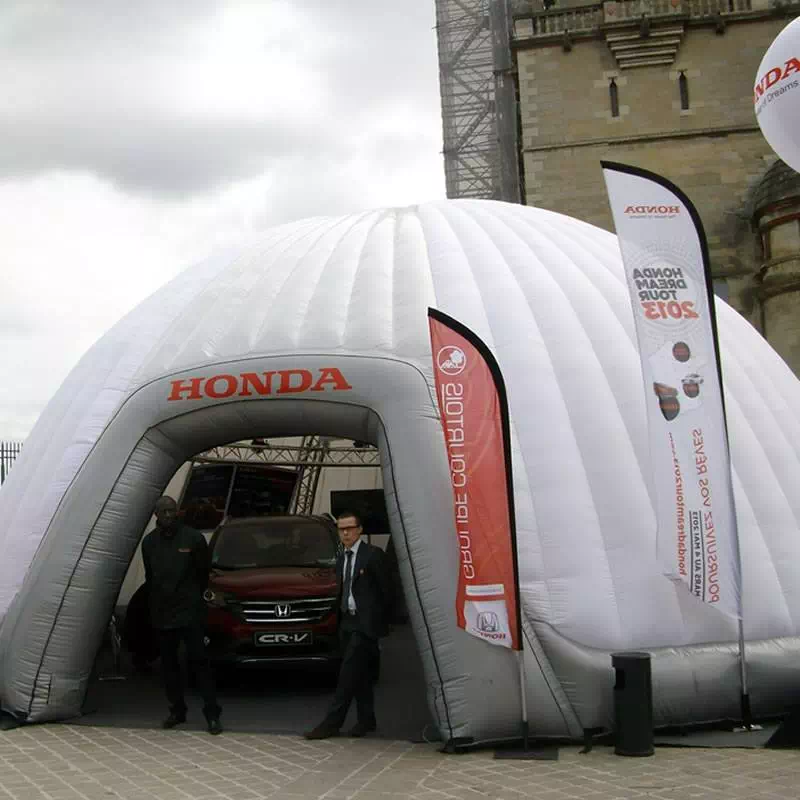 REQUEST A FREE QUOTE
Dome / Igloo
Fill out the form below
to automatically receive our product catalog.
Inflatable dome : bet on originality !
The inflatable dome is a light and quick to set up event structure that instantly brings originality and visibility. 
The forced-air igloo is a perfect option to set the scene, to create an animation during an event, which will not leave the visitors indifferent.
There are different models (cube, half-sphere, igloo...) to best match the desired atmosphere. 
Like the inflatable arches, the domes are fully customizable and can be completed with options such as LED lighting, an additional door... 
The inflatable domes can be used indoors or outdoors to promote a cultural event, an exhibition, a festival...
Inflatable domes used for marketing purposes
The inflatable igloo or inflatable dome is a light and strong canvas structure that is kept inflated by a permanent blower built into it. In this way, the inflatable dome can be used safely indoors and outdoors.
This type of inflatable advertising structure is perfect for large-scale events such as trade shows, sports or cultural events, regional events, festivals or large commercial operations. 
But the inflatable dome, whether it is chosen in a round or square shape, can also create an intimate space, an original and warm reception area. Just like a barnum tent, the inflatable igloo can be installed to accommodate a dining area, a relaxation area, a cocooning area...
Installed outdoors such as in an exhibition park, a public place, a stadium (... ), the inflatable dome offers a strong visibility. Its imposing size attracts the curiosity of passers-by or visitors and makes the brand or the sponsor organizing the event immediately identifiable. 
This type of structure also creates an inflatable shelter in which furniture can be installed: tables, chairs, sofas (...) or stands that will be protected from external conditions: strong heat, cold or rain. 
Indoors, the inflatable igloo is perfect for creating a differentiating area, a unique space. Whether you want to stand out from your competitors at a trade show or an exhibition, or whether you want to offer participants or visitors a unique space, the inflatable dome fulfills
these functions perfectly. Its playful design serves your communication and your image while
fulfilling a practical function appreciated by participants or prospects.
Information and technical details of the inflatable dome
Product details
The domes are made of a light and resistant Nylon envelope.
We can print your logos on the whole surface of the dome, a printing on bands with velcro can also be considered.
You have a sleeve for inflation and deflation as well as an electric blower (permanent blower), we also propose for the structures with captive air (not ventilated) with a classic electric inflator (you inflate and you close the valves).
All our inflatables are supplied in a carry bag.
Technical information
The color is to be defined according to your desires and needs: Choice according to the palette or Printing on the entire structure
Available sizes & shapes
The useful surface of the inflatable domes varies from 20 m² to more than 500 m². 
Dome 6m: 20m².
Dome 8m : 38m² (38m²)
Dome 10m: 63m².
Dome 14m: 115m² (115m²)
Dome 20m: 240m².
Trident 24m: 365m².
Peanut Trident: 800m
Technical constraints
Every effort is made to ensure that the visuals conform to the files you are uploading, it is obvious that the visuals will undergo a slight deformation due to the fact that a dome has rounded shapes.
However, variations may occur, particularly due to the technical limitations of color rendering on your computer equipment, if necessary, specify the desired pantone.
Delivery times & payment methods
The delivery time: count 20 days or more according to the quantities, we must also receive the estimate as well as the good to print with the mention "good for agreement", the signature, the date and the stamp.
Delivery method: delivery by carrier (pallet) or by UPS (single carton)
Payment: balance at the order or by check at reception with the deliverer
Discover the other products in our "inflatables" range