Home > Inflatable Structures > Column and Totem
Inflatable advertising columns for your communication
Inflatable totems and advertising columns are very effective communication tools and very easy to set up.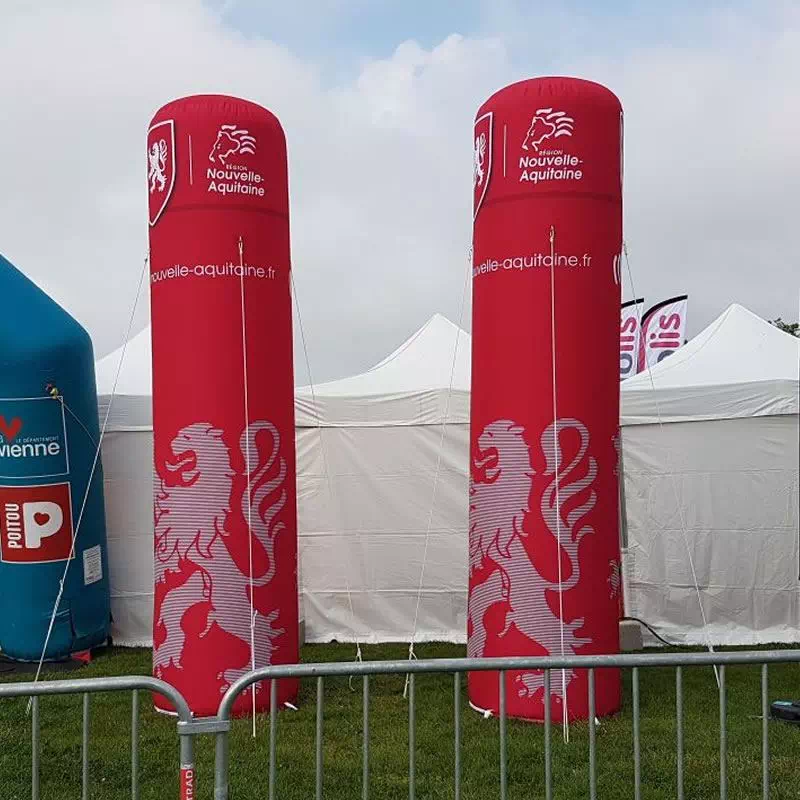 REQUEST A FREE QUOTE
for inflatable totems
Fill out the form below
to automatically receive our product catalog.
Our customizable self-ventilated tubes.
The advertising column is ideal for your visual communication both indoors and outdoors.
This inflatable structure adapts to all your events: signage on stands, exhibitions, fairs, beaches, concerts, stores, etc...
Through our wide range of products, we can perfectly meet your needs, so do not hesitate to contact us, we will do our best to meet your requirements!
Customizable inflatable columns used as communication tools
Visible at 360°, your company will no longer go unnoticed, the totem offers you a high visibility and a minimum of floor space. The diameter of the cylinder varies according to its height, indeed, we offer self-ventilated structures from 2.5 m (diameter: 80 cm) to 4 m (diameter: 100 cm) high.
The inflatable tube is the perfect communication tool thanks to its original design and its customizable envelope. We propose a printing on two sides, total or on removable strips fixed by velcro.
We are at your disposal for any information concerning the advertising columns, we will answer you as soon as possible.
Information and technical details of the inflatable totems
Product details
The advertising totems are made of OXFORD 300 D for outdoor use and nylon for indoor use (N.B. we can also use 0.35 mm PVC for non-self-ventilated structures without blowers).
Printing of your logos on two sides, we also offer a total printing.
4 to 6 fixing points to secure the structure + the rope.
350 W electric blower for self-ventilated tubes and for 0.35 mm PVC cylinders, we provide a classic electric blower.
You have a maintenance kit, which includes PVC patches and PVC glue.
The conditions of use and installation are provided for each product.
Technical information
Dimensions:
H 2.5m x ∅ 0.50m + print
H 2.5m x ∅ 0.80m + print
H 3m x ∅ 0.80m + print
H 4m x ∅ 1m + print
H 4m x ∅ 1m + print.
N.B. we also propose versions in 0.35 mm PVC without permanent blower. Bottom color to be defined according to our availabilities.
Options
We offer electric LED light system for skydancers and advertising columns.
Electric air inflator for non self-ventilated versions, 39 € HT.
Additional band on velcro with printing (price according to the size of the band).
Technical constraints
Every effort is made to ensure that the visuals conform to the files you are transferring, it is obvious that the visual will undergo a slight deformation due to the fact that an inflatable is round in shape.
However, variations may occur, particularly due to the technical limitations of color rendering on your computer equipment, if necessary, specify the desired pantone.
Delivery times & payment methods
The delivery time: count 20 days or more according to the quantities, we must also receive the estimate as well as the good to print with the mention "good for agreement", the signature, the date and the stamp.
Delivery method: delivery by carrier (pallet) or by UPS (single carton)
Payment: balance at the order or by check at reception with the deliverer
Discover the other products in our "inflatables" range