Home > Inflatables
Customizable inflatable structures and inflatable arches
Inflate your communication with inflatable structures and advertising arches made with the colors of your brand or with the effigy of your products.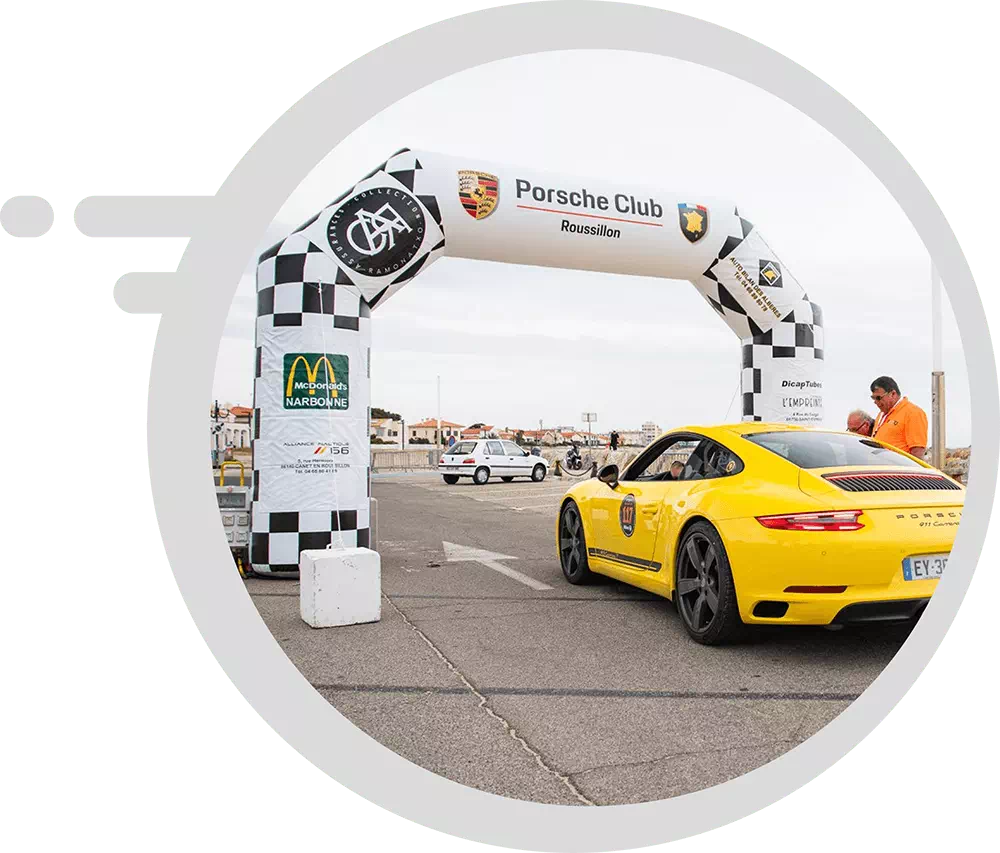 REQUEST A FREE QUOTE
for inflatable structures
Please fill in the following form and we will contact you shortly.
Inflatable structures with forced air.
The self-ventilated inflatable is an indispensable marketing product to enhance your company. The ventilated inflatable has a strong power of attraction on the public when you expose on a fair or a sports animation for example.
Thanks to our multiple available shapes, you can define a self-ventilated structure in the image of your product or your sign. The possibilities are almost endless, the dimensions, shapes and colors are completely customizable.
The self-ventilated inflatable, unlike the helium-inflated structures, is to be placed on the ground and operates with an electric blower to maintain a permanent inflation inside the nylon envelope.
Make an impression and get noticed with an outstanding advertising campaign. Be original and creative, highlight your products and give a new impetus to your communication.
You aspire to develop a new commercial strategy and you want to conquer potential customers, then do not hesitate, the inflatable self-ventilated structure is made for you.
Through our wide range of products, we can perfectly meet your needs, so do not hesitate to contact us, we will do our best to meet your requirements!
Inflatables: think big, for an impactful advertisement!
When it comes to POS advertising, inflatables are an essential and striking tool. What a great way to showcase your products and services! This type of inflatable event signage includes the arch, the tent, the dome, the totem, the skydancer, the hot air balloon but also custom made structures. Here is a presentation of these inflatable advertising structures designed for a truly original advertising.
The inflatable arch: an unusual advertising display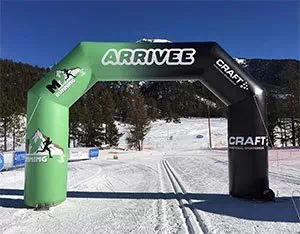 Theinflatable arch, which can be customized according to your graphic charter or another wish, can work in two ways: either it is a captive air arch or a self-ventilated arch. Once the arch has been created with your inflator, thecaptive air arch no longer requires a permanent blower and therefore no electricity supply. The self-ventilated arch (with integrated blower) works with permanent electric ventilation. An inflatable arch can be installed on any type of ground (earth, snow, lawn, sand...) and is fixed with a rope and stabilizing feet.
These arches, by their imposing size, make it possible to locate the points of departure and arrival of a sporting event or the entry of a festival. They also effectively indicate your presence at a trade show or fair. The shape of an inflatable arch is varied: straight, round, rectangular, cutaway, polygonal or personalized. The inflatable advertising arches are a key tool in your sales and marketing strategy outside your company.
The inflatable tent: a giant shelter to extend your visibility
Operating with captive air or forced air like the arch, the inflatable tent is installed in a few minutes and enhances your image in XXL size. It is also all terrain and can be used for any event. Customized prints can be permanent or can be attached by hook and loop (Velcro type) to the tent's structure, caps and side bands: you can then change your visuals according to the occasion. The inflatable tent, fixed to the ground and reusable, is of course used as a protection to expose your stand sheltered from bad weather.
An inflatable advertising tent is visible from a distance with its spider or house shape: ideal to attract your customers and increase your sales. The standard tent is the 4-legged inflatable tent. This original object generates an undeniable visual impact. Trade show audiences are always attracted by the fun aspect of large inflatables. The autonomous inflatable tent (tent with captive air) and the inflatable tent with integrated blower are therefore essential outdoor communication tools.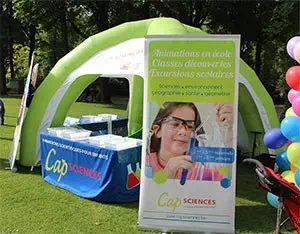 The inflatable dome: an unforgettable igloo to receive your customers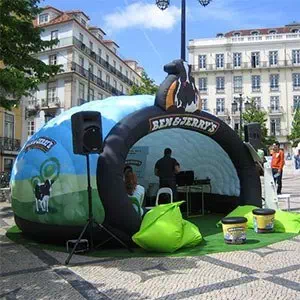 The inflatable dome serves as a shelter, like the inflatable tent, but it is round in shape like an igloo and is more enclosed. Its size and capacity vary according to your needs. It is both light and resistant. Its atypical and original design makes it a very popular advertising accessory. Its blower is integrated and permanent, for a maximum safety. All white or personalized according to the visuals you have chosen, it instantly attracts the eye and brings the public to you.
This signage accessory has an extraordinary visual impact on the public: the inflatable igloo inevitably arouses the curiosity of your prospects and guests, who are eager to get inside this incredible cocoon. The inflatable advertising dome allows you to welcome visitors in an unforgettable way, outdoors or indoors, whether it is for a stand at a trade fair, an information area, a party or a group meal.
The column and the totem: to give height to your brand
These large vertical signage elements exist in two forms: the inflatable columns with captive airwhich are autonomous once inflated and can be installed anywhere. And the columns on a blower (self-ventilated) powered by electricity permanently. The inflatable columns can be covered with different "socks" depending on the event: marked with the colors of a sporting event, they will mark the path of the athletes. All these columns can also delimit a stand because they are static and take up little space on the ground
These customizable advertising columns make an impression with their great height. Your company is highlighted thanks to this exceptional visibility. You can reuse these inflatable tubes on many occasions. An optional LED light makes them even more striking, especially at night. A rugby totem is an inflatable advertising column with an oval top featuring your logo.
The skydancer: for a well-paced communication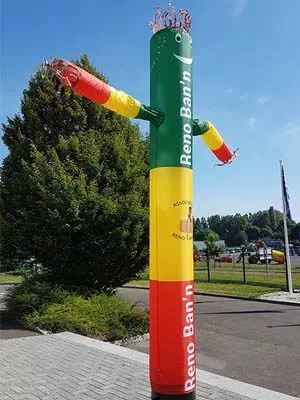 The skydancer is a self-ventilated tube (on a blower) which has the particularity of being always in movement, like a windsock. It can take the form of a simple tube, but in its most common form it has two arms, creating a character that dances while greeting the audience and thus attracting attention. Skydancers can also consist of two arms and two legs or be custom made, sometimes including LED lighting.
The height and movement of this type of signage attracts the eye of visitors and customers, whatever the event and location. Very playful, the skydancer is easy to spot so the public comes easily to you, to your stand. The skydancers, also called "airdancers", can also mark a location as a landmark for the public. With the effigy of your brand, they are a lively and very popular inflatable signage element.
The hot air balloon: the choice of excess for your advertising
The advertising hot air balloon is an inflatable product of outdoor self-ventilated. It inflates with helium or air. Its size, shape and colors are very variable which allows you many possibilities. The classic hot air balloon is presented in the form of an inverted pear, but it also exists with a high part in the shape of a globe or balloon, placed on a straight base.
Its imposing size makes this advertising accessory incredibly attractive to the public. An inflatable balloon makes your presence unforgettable at any event. You stand out from your competitors and raise your brand image a notch. A high-end advertising product!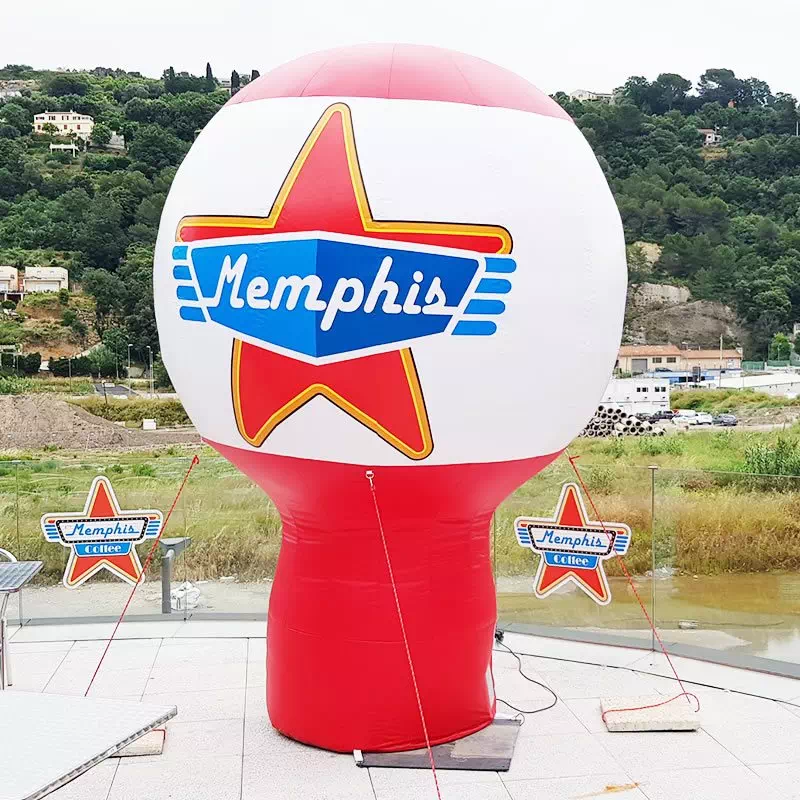 Customized structures: to accurately represent your product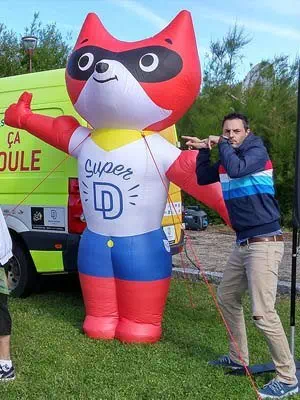 For a total personalization of an inflatable advertising object, there are custom-made structures. They can be inflated with air or helium. They represent for example one of your products in XXL size, a mascot or any other figure. Among the models of custom-made structures already seen at trade shows or on indoor or outdoor stands are a variety of objects: a bottle of barbecue sauce, a house, an animal, a packet of cookies... but also beautiful luminous stars.
Your company and your products are immediately identifiable with these well-chosen custom-made self-ventilated structures. These advertising products are very original and are a must-have for your POS as they highlight your brand.
Thanks to all these types of inflatable advertising structures, your visibility is maximum, you increase your notoriety on trade shows and therefore effectively impact your sales.