Home > Street Marketing > Flags and Oriflammes
Make an impression with advertising banners.
With their multitude of formats and forms, the customizable banners allow you to set up, very quickly and very effectively your communication strategy.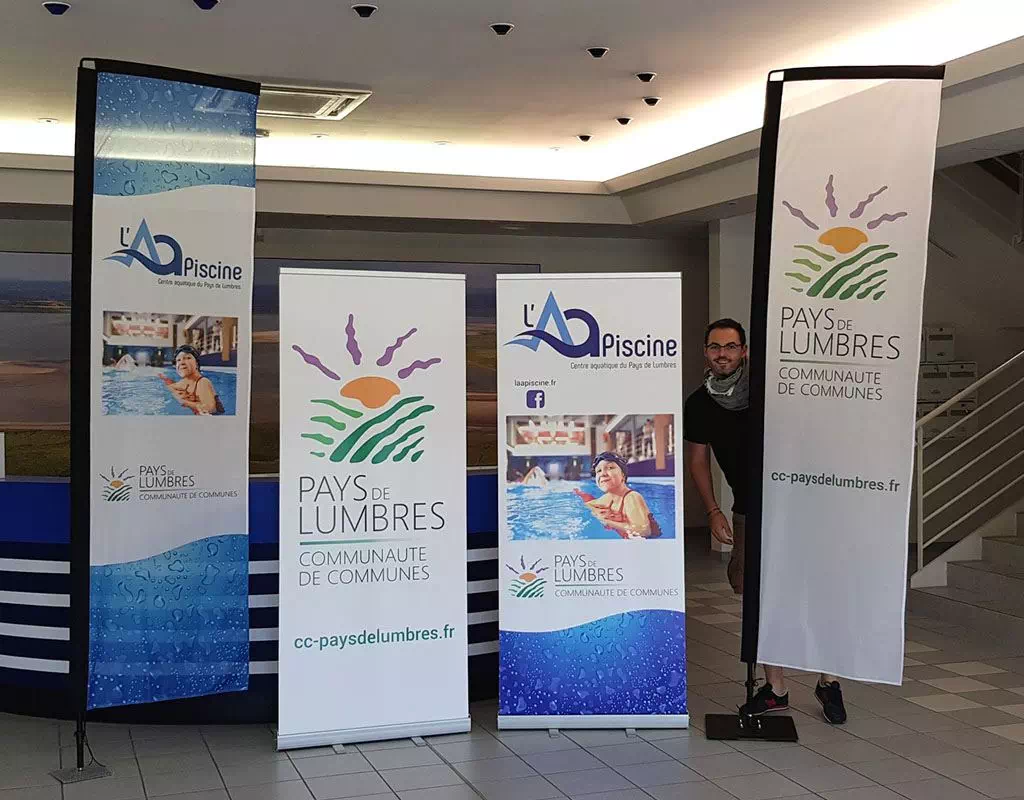 REQUEST A FREE QUOTE
on advertising banners
Fill out the form below
to automatically receive our product catalog.
The advertising banner is a very versatile communication tool
The advertising banner is a personalized banner with your company colors. Your logo and other elements of your graphic charter find easily their place on a banner, also called beachflag.
We offer different types of customizable banners.
These banners are a very good communication product: you just have to place them strategically during an event to increase your visibility and attract the public to you.
The printed sail of the banner allows your company to be recognized immediately.
The banner is suitable for all types of events inside and outside. It can also be used as a street marketing tool.
Contact us for the creation of your advertising banners!
The advertising flag or customizable banner
The advertising banner has the advantage of highlighting your company at human height: immediate impact on the public walking on a trade show or in front of your store! This banner on mast and base easily arouses the interest of people invited to a commercial, cultural or sports event (on the beach during a surf competition, for example).
These static banners effectively mark your presence at indoor and outdoor events. These flags can also be mobile: it is the case of the flags on backpack. In all cases, visitors recognize or discover your brand and come to you. Having caught their attention, you can then present them your products or services. The advertising banner allows you to gain visibility and notoriety. 
Opting for advertising banners is to increase your brand image thanks to products with a nice look. Your company improves its commercial performance thanks to this effective marketing lever.
The banners are stable advertising supports, easy to transport, to install and to move on your stand or site. Printed with your colors, these banners take up very little space. Essential for point-of-sale advertising and visual identity, they allow you toidentify your brand instantly and to mark the entrance to your store or your sales area at a trade show.
We can propose you several shapes of sails (feather, drop...) and we personalize them, of course, with your logo and the other elements of your graphic charter. You can also ask us for a complete printing of your banner sail (in total covering). The advertising banner is a support resistant to bad weather.
Do not hesitate to contact us for more technical details or to discover the range of models we can offer you! Our team is at your disposal for any question.
Information and technical details on advertising flags
Product details
Our advertising sails are 100% polyester 115g/m². 
We use two printing techniques: digital or silk-screen depending on the quantities.
When printed on one side, the visual is visible on the other side by transparency and we can also print on both sides.
The black sail cover is reinforced and made of 300D Oxford polyester. 
The mast is made of carbon fiber (very resistant).
The sails are tightened on all the masts thanks to a rubber band.
Different sizes & shapes
We have a wide range of flags, here are the main ranges:
PFF range: straight flags
PWF range: rounded rectangle / beach flag
PVF range : beach flag
Special shapes: surf, sheet, magnum etc..
Choice of sizes & shapes: 
We suggest you contact us so that we can help you choose the size and shape of your flags.
Options
Square steel holding plates
Round steel holding plate
Steel crossbar
Chrome crossbar
Star crossbar
Tire hook
Concrete base
Water base
Ballast pocket round
Drilling stake
Screw-in drilling stake
Rotation pin
Rotation pin & vertical plate
Rotation pin & 45° wall plate
Steel plate fixing pin
Transport bag
Technical constraints
Every effort is made to ensure that the visuals conform to the files you are transferring. Depending on the shape of the veil chosen, the visual may be slightly distorted.
However, variations may occur, particularly due to the technical limitations of color rendering on your computer equipment, if necessary, specify the desired pantone.
Delivery times & payment methods
The delivery time: count 15 days or more according to the quantities, we must also receive the estimate as well as the good to be printed with the mention "good for agreement", the signature, the date and the stamp.
Delivery methods: delivery by UPS or carrier
Payment: balance at the order or by check at reception with the deliverer
Discover the other products of our " Street Marketing " range