Home > Stand Display > Umbrella Stand
The umbrella stand, the essential POS for the exhibition
The umbrella stand is a multi-functional POS display that is easy to set up to embellish your stand at a trade show or fair.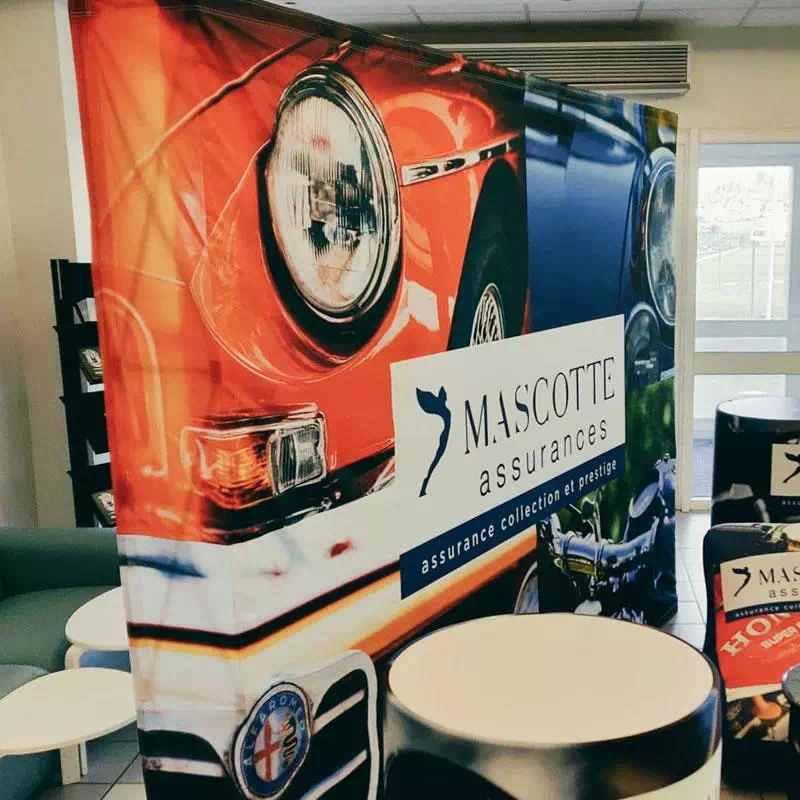 REQUEST A FREE QUOTE
for umbrella stands.
Fill out the form below
to automatically receive our product catalog.
The umbrella stand: the essential display for a successful exhibition
On a trade show, a fair, during a point of sale advertising operation , for a photocall, a seminar or a press invitation, the umbrella stand is ideal to display your image in a large format.
Lightweight, reusable and deployable by a single person, it ensures optimal visibility of your exhibition stand.
100% customizable, usable indoors, our textile image wall gives an impactful power to your corporate or brand communication.
With the umbrella stand, increase the impact of your presence on the show
To stand out at a commercial, cultural or sports event, to boost your visual communication, to highlight a product, a brand or a company, the umbrella stand cultivates its difference. To display a visual or your brand image, your image wall is available in different formats, from 5 to 13 m2 of flat or curved surface. Your stand gains in power of attraction on your customers and prospects by displaying a very professional image. During a press conference, a congress or a seminar, it is impossible to miss your message.
Placed at the bottom of the stand, your pop-up stand adapts to all stand configurations. It allows you to dress up an unsightly partition while ensuring your advertising or communication. And you, you are visible from far.
The folding umbrella stand is an effective and impactful communication tool. With its printed and fully customizable canvas, usually made of polyester, or PVC panel for larger formats, mounted on an aluminum, PVC or carbon structure, your umbrella stand is light and easy to transport from trade shows to professional events, from event days to promotional evenings. The "stretched fabric" is simply attached to the uprights of the structure by self-gripping strips. The assembly and disassembly can be done by a single person, without any particular tool, which allows the exhibitor to be autonomous.
Foldable and unfoldable in a few minutes, the umbrella stands facilitate the installation and storage of your exhibition stands. Transportable in a bag or a carrying case, your umbrella stands follow you everywhere to create a design stand, scalable, easy to assemble.
Thanks tohigh-definition digital printing, our umbrella stands are communication supports that can be customized according to your needs, your desires and your budget, in XXL format. Our different models of tubular image walls, folding or inflatable umbrellas will adapt to the configuration of your trade shows or professional events. A logo, a new product to present, captivating visuals... everything is possible in terms of customizing your umbrella stand.
To increase the impact of your stand, do not hesitate to complete your umbrella stand with inflatable furniture or a reception counter to receive your customers or prospects in the most pleasant way.
Its originality, sturdiness, lightness and ease of transport make the umbrella stand an ultra-efficient communication solution for the launch or promotion of a product or brand. Nomadic, your umbrella stand adapts to fairs and exhibitions, attracts attention and can only make a good impression on visitors to your advertising stand, or the public of your conferences, congresses and seminars.
Information and technical details about the folding umbrella stands
Product details
We offer 3 types of umbrella stands:
The "tubular" umbrella stand: a wall of images to be assembled from interlocking tubes.
The folding umbrella stand: an aluminum image wall (folding the structure in "scissors")
The inflatable umbrella stand: it is similar to the tubular picture wall, except that it is the inflation that gives rigidity to the tube.
Technical information
The stands are composed of 2 parts:
The "structure" that is not visible to the public (and therefore not customizable).
And the "sail" or "cover" part in polyester which is 100% customizable on the whole surface, is your advertising support! 
Options
Here are a few examples of standard sizes, don't hesitate to come to us for specific requests
Umbrella stand with rigid tubes : 
Size S: 3.00 m wide and 2.30 m high
Format M: 6.00 m wide and 2.30 m high
Foldable umbrella stand: 
Size S: 2.28 m wide by 2.28 m high
Format M: 3.05 m wide and 2.30 m high
Inflatable umbrella stand: 
Standard: 3.00 m wide and 2.40 m high
Technical constraints
Every effort is made to ensure that the visuals conform to the files you upload, it is obvious that the visual will undergo a slight deformation due to the shape of the stand-display selected.
However, variations may occur, particularly due to the technical limitations of color rendering on your computer equipment, if necessary, specify the desired pantone.
Delivery times & payment methods
The delivery time: count 15 days or more according to the quantities, we must also receive the estimate as well as the good to be printed with the mention "good for agreement", the signature, the date and the stamp.
Delivery methods: delivery by UPS (parcel) or by carrier (pallet).
Payment: balance at the order or by check at reception with the deliverer
Discover the other products of our "giant balloons" range