Home > Stand Display > Reception counter
Inflatable counters & folding reception desks
Add a reception point to your booth. The reception desk is an essential point of contact in your booth.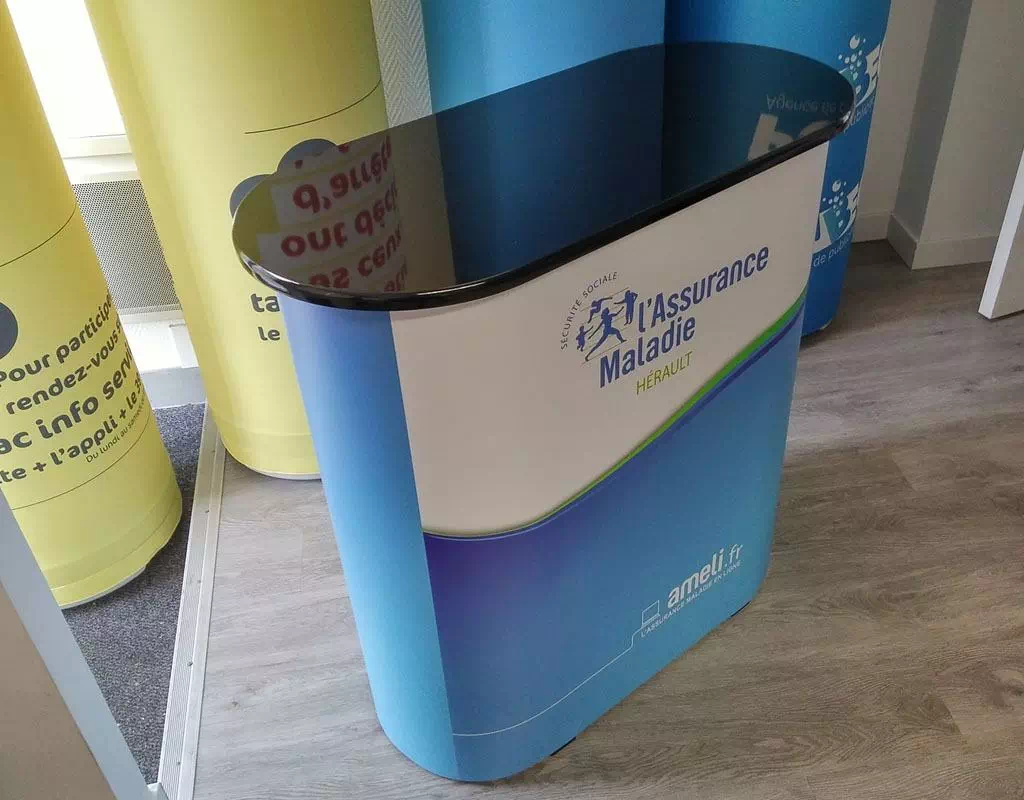 REQUEST A FREE QUOTE
counter & reception desk
Fill out the form below
to automatically receive our product catalog.
The reception desk: an essential meeting point for your stand
Welcoming visitors to a trade show, setting up a space to initiate dialogue, offering a display for flyers, positioning an information stand in a trade show...
Whatever the objective, the foldable or inflatable reception counter is essential to meet the public, customers or prospects.
Easy to install and transport, the reception desk also allows you to convey your brand image and to stand out with an original and unique communication.
Customizable and available in different sizes, the counter is an effective communication tool while being functional with its storage space.
An efficient and functional POP for your stand
In a trade show or a professional exhibition, during a congress or a seminar, at the entrance of a store, for an open day on a point of sale, the reception desk allows your hosts or your salesmen to receive the customers, prospects and visitors in good conditions while conveying your brand image. Positioned at the entrance of a stand or a space conducive to exchange, the reception desk offers a good visibility of your structure or company through its personalized visual design. The reception desk enhances your presence, accentuates your notoriety while offering great functionality: open at the back, its shelf allows you to store flyers, leaflets, game forms and other brochures and leaflets.
Our reception desks are available in two versions: mounted on an aluminum frame and foldable, or inflatable cylindrical shape. The umbrella reception desk is easy to fold and unfold. It has an ovoid shape for 360° visibility, a shelf and a top plate made of thermoformed PVC, black lacquered or imitation wood. Available in different widths, heights and depths, our reception desks are perfectly ergonomic and adaptable to all configurations. Your communication, the image of your brand or your company, is displayed around the aluminum structure on a flexible PVC panel, fixed by a magnetic tape. The personalization is done "flat" in high quality digital printing.
Inflatable reception desks look like waterproof polyurethane "bladders" over which a 100% customizable polymer case is slipped. A hard PVC tray is placed on the reception desk. Desks where documents or a computer can be placed. Our inflatable reception desks are available in different diameters (from 40 to 72 cm) for a height of 50 cm to 1.20 m.
Perfectly stable and sturdy, our inflatable displays can be complemented with optional LED backlighting.
Our kiosks can be assembled and disassembled in a flash, inflated in a few minutes, by a single person and without tools, and are supplied with a carrying bag. This makes them nomadic communication tools. You can move from one trade show to another and offer a warm and original reception area, which allows you to receive your prospects and customers in a simple and direct way. But also durable and reusable. Thus, you invest on a long term communication while arousing exchange and dialogue.
Particularly light, your reception counter provides a double benefit: it creates an information or meeting point and becomes a visual, advertising or promotional communication medium
Information and technical details on the banks / reception counters
Product details
We offer 2 types of reception counters:
Folding reception counters (in scissor structure like the folding umbrella stands
Inflatable reception counters (which are the same thing as inflatable columns, but less. high)
The marking of the banks of reception is carried out on the circumference of the structures:
For inflatables, it is a printable polyester "sock" that will be threaded onto a waterproof flange.
For rigid structures, it is a flexible PVC that will be rolled up on an aluminum structure "scissor type".
Countertop sizes
Inflatable counters : 
CP44 : height 105 cm / diameter 40 cm
CP60 : height 105 cm / diameter 60 cm
CP72 : height 120 cm / diameter 72 cm
CP ACE S : height 52 cm / diameter 45 cm
CP ACE L : height 90 cm / diameter 45 cm
Counters : 
STRECH BAR : height 100 cm / width 0.60 / depth 38 cm
VELCRO BAR : height 92 cm / width 0.96 / depth 41 cm
OTTO BAR : height 90 cm / width 0.90 / depth 40 cm
BAR BAGOTO : height 94 cm / width 0.90 / depth 45 cm
Options
The inflatable counters are supplied with : 
Waterproof PVC inner casing 
A hard PVC tray for the top
The sock printed with your branding
An inflation pump
A carrying bag
Optional: internal LED lighting! 
Umbrella counters are supplied with : 
An aluminum structure and its tray 90x40cm
A shelf 
A flexible PVC panel customized to your needs
A carrying bag
Technical constraints
hile every effort is made to ensure that the visuals conform to the files you are transferring, it is obvious that the visual will be slightly distorted due to the rounded shape of an inflatable.
However, variations may occur, particularly due to the technical limitations of color rendering on your computer equipment, if necessary, specify the desired pantone.
Delivery times & payment methods
The delivery time: count 15 days or more according to the quantities, we must also receive the estimate as well as the good to be printed with the mention "good for agreement", the signature, the date and the stamp.
Delivery methods: delivery by UPS (parcel) or by carrier (pallet)
Payment: balance at the order or by check at reception with the deliverer
Discover the other products " stand display " proposed by PUBEO