Home > Stand Displays > Folding Barnum
Folding advertising tent / Aluminium folding tent
Aluminum advertising tents that can be customized with your brand's colors.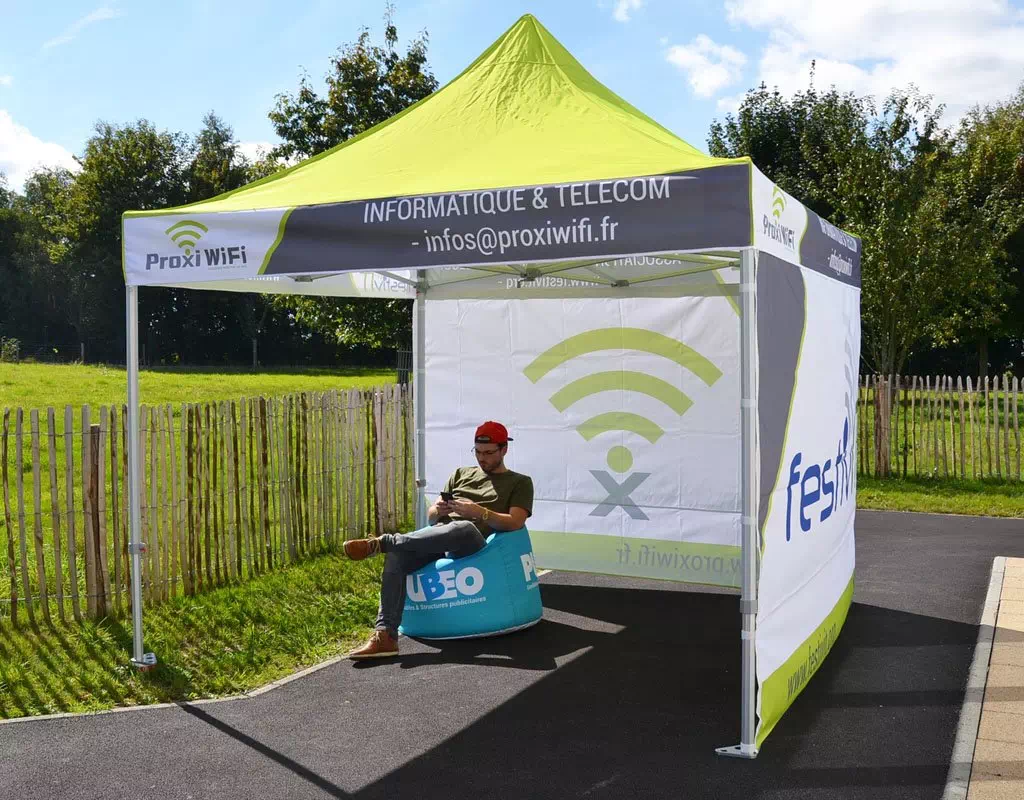 REQUEST A FREE QUOTE
aluminum folding tent
Fill out the form below
to automatically receive our product catalog.
Easy to set up tents to communicate in any situation.
For an exhibition, a trade show, a sports event or a festival, the folding advertising tent can be used indoors or outdoors. 
Thanks to its structure, this type of POS combines comfort and visibility. 
Totally customizable to your image, your company or your brand, it is an effective communication support while protecting your visitors from the sun and bad weather.
Light and resistant, foldable, easy to assemble and disassemble, it is composed of a PVC tarpaulin 100% customizable and a tubular aluminum structure 
The personalized folding tents, your ally for all your marketing operations.
Need to stand out, to communicate about your brand, your company or a new product while offering comfort to your customers, prospects or simple visitors? The advertising tent is the most adapted solution because of its versatility. It can be installed indoors to materialize an exhibition stand, but also outdoors where it allows you to shelter in case of difficult weather conditions. Perfectly waterproof thanks to the ballast kits and gutters, it protects from rain but also from the sun's rays while increasing your notoriety. The advertising barnum can also be used as a reception tent or a refreshment stand. Or even as a closed space for more discreet commercial exchanges.
Made up of a tubular aluminum structure, a fireproof roof with reinforced corners and pediment, and doors or "walls", our folding tents adapt to all configurations, closed, semi-closed, or side walls. Our mechanical tents are available in two distinct ranges: the Alu Eco range, for occasional use, and the Alu Pro range, with its reinforced aluminum structure, for more intensive use. Our folding tents are also available in different formats, square or rectangular, for surfaces ranging from 9 to 24 m2.
As for the visibility that our advertising arbors provide, it is optimal. Your message, brand or product is displayed on reusable and fully customizable PVC tarps. The front and side panels of your arbor, which can be fixed with a zipper, can be seen from afar and are original and striking communication tools. Thehigh quality digital printing ensures an excellent visual rendering.
Whatever the folding barnum you choose for your event, you are assured of its lightness and its resistance. Thanks to its easy assembly and disassembly, your advertising awning allows you to save precious time. With its small size, it is easy to store. The transport bag facilitates handling.
Optional extras include additional pegs, ballast bags or custom sidewalls.
For all your sporting events, POS operations, festivals, or trade shows, the folding tent is a functional and efficient display solution, because it combines the practicality of the shelter with the effectiveness of the communication.
Information and technical details about aluminum advertising tents
Product details
Aluminum folding barnums are composed of several elements:
Aluminum structure: it is a folding structure made of hexagonal aluminum bars and PVC reinforcements.
A polyester roof with reinforced corners and edges. Polyester doors or "walls" with velcro.
We offer full printing on the entire tent: the roof, the edges and the 4 walls.
Different sizes and formats.
We offer two ranges of tents:- the range
Alu Event, for standard uses.
the Alu Event Pro range for intensive events.
The aluminum structure is reinforced (wider sections) for the Alu Event Pro range.
The Alu Event tent 
Size : 3x3m | Surface 9m² | Weight 21 kg
Size : 3×4,5m | Surface 13m² | Weight 22 kg
Size : 3x6m | Surface 18m² | Weight 30 kg
The event aluminium tents are made of 42 x 42 mm hexagonal aluminium structure
The Alu Event Pro tent 
Size : 3x3m | Surface 9m² | Weight 30 kg
Size : 3×4.5m | Surface 13m² | Weight 40 kg
Size : 3x6m | Surface 18m² | Weight 50 kg
Size : 4x4m | Surface 16m² | Weight 35 kg
Size : 4x8m | Surface 24m² | Weight 60 kg
The event pro aluminium tents are made of octagonal aluminium structure of 52 x 52 mm
Options & Accessories
Accessories included: 
Polyester roof and walls with prints (on request),
Stakes, hammer, ballast ropes,
Assembly instructions,
Carrying bag.
Available options:
Ballast bags,
Additional doors with prints,
Junction for roof.
Additional stakes and ropes
Flag holder
PVC "puzzle" floor
Lighting
Authorizations for helium balloons
An authorization from the Direction Générale de l'Aviation Civile is required for outdoor use (only for helium-filled balloons)
Technical constraints
Every effort is made to ensure that the visuals conform to the files you are transferring, it is obvious that the visual will undergo a slight deformation due to the fact that an inflatable is round in shape.
However, variations may occur, particularly due to the technical limitations of color rendering on your computer equipment, if necessary, specify the desired pantone.
Delivery times & payment methods
The delivery time: count 20 days or more according to the quantities, we must also receive the estimate as well as the good to print with the mention "good for agreement", the signature, the date and the stamp.
Delivery methods: delivery by UPS (parcel) or by carrier (pallet)
Payment: balance at the order or by check at reception with the deliverer
Discover the other products " stand display " proposed by PUBEO