Home > Stand Display
Solutions for a successful exhibition
We offer a range of products to make your stand even more attractive.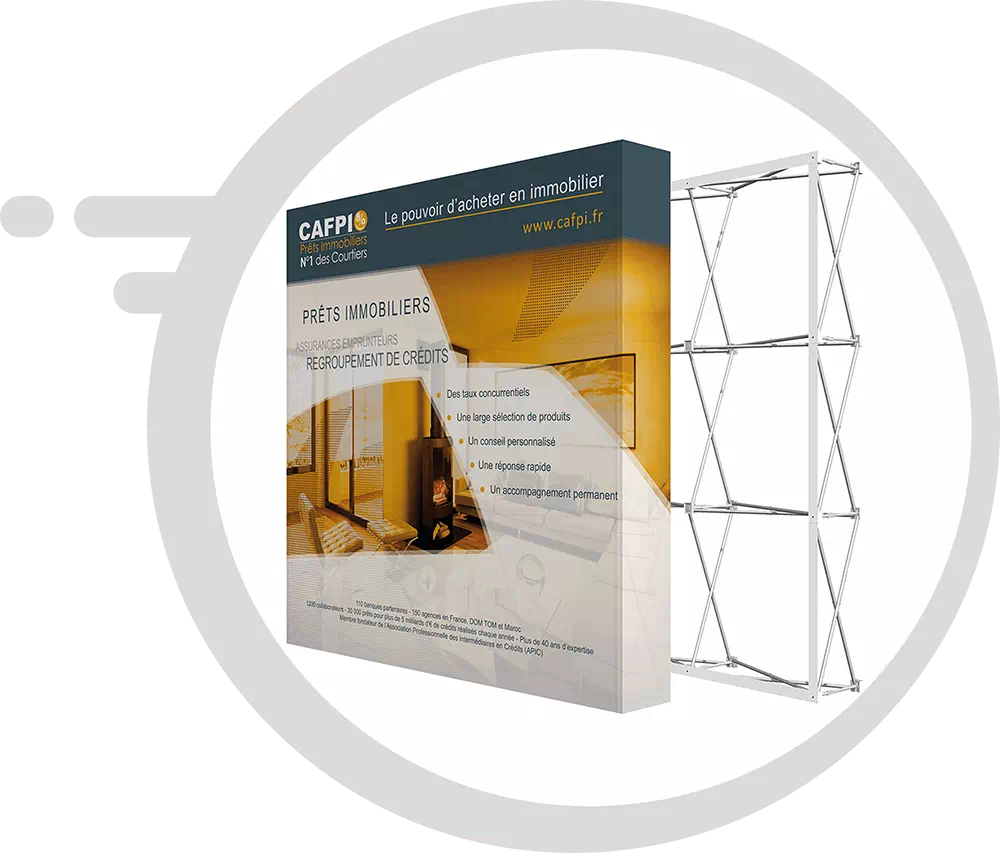 REQUEST A FREE QUOTE
to customize your booth
Please fill in the following form and we will contact you shortly.
Our display solutions to make your stand stand out
A trade show, a promotional event, a commercial, sporting or cultural event...? 
Whatever the objective, the exhibition stand for advertising, commercial or promotional purposes is an essential asset to make you stand out, to highlight a brand or a product and to catch the eye of prospects. 
We offer you different solutions to animate your exhibition stand, customizable, modular, adapted to your needs and your budget, from the most classic to the most original.
Primary objective: to show your difference!
A display stand is an indispensable communication and marketing tool for a company, event or brand. By adopting the right display stand solutions, you will be able to attract the attention of new customers, reflect your brand image or convey an advertising message. As an essential communication support and an important element of a marketing strategy, the display stand brings you visibility and attractiveness.
With their strong visual impact, our various display stand elements allow you to make a difference at a trade show, a large-scale event, a commercial demonstration, a seminar, a conference or even in a showroom or a reception hall. Our structures are effective in improving your visual communication, increasing your brand awareness, advertising at the point of sale (POS), and making your exhibition area attractive.
With a wide range of customization options, our display stand proposals will reflect your image and make your stand, event or commercial signage original, creative and unique.
Inflatable structures with forced air.
The display stand can take different forms to adapt to the needs of each exhibition stand. Our range of display stands includes several solutions that we invite you to discover:
The umbrella stand: with its large, personalized display format, it offers exceptional visibility. Appreciated for its ergonomics, lightness and ease of installation, it is an effective communication and marketing tool on an exhibition space at the back of the stand. True walls of image, our umbrella stands are available in three versions, to be unfolded, mounted with tubes or inflated.
The reception desk: this reception desk accentuates your visibility while allowing you to receive the public in good conditions or to go and meet them. Very ergonomic, the reception desk is available in two versions, mounted on an aluminum structure or inflatable. Ideal for trade shows or exhibition stands, it can also be used as a display unit.
Inflatable furniture: original, light and easily transportable, inflatable furniture really helps define a brand or corporate identity. Assimilated to comfort and well-being, the inflatable poufs, armchairs and sofas accentuate your notoriety by offering a pleasant experience to your customers or prospects. This inflatable advertising furniture will follow you in all your shows, fairs and other commercial conventions.
The folding tent: usable indoors and outdoors, the mechanical aluminum tent is defined as both a communication tool and a protection element. Your image or your brand is visible from afar and, at the same time, you protect your customers and prospects from the sun or bad weather. Customizable on all sides, this light barnum is mounted on an aluminum structure.
Inflatable structures with forced air.
Our wide range of communication supports allows you to create a customized stand, to organize its design and layout in your own way, easily and quickly. We have imagined display stand modules that are simple to deploy during a commercial, sports or cultural event, adaptable to all stand configurations, and capable of capturing the public's attention.
By opting for our communication supports, you make the choice of :
Ease of assembly and disassembly: umbrella stands, folding tents or reception counters can be assembled and installed quickly due to their simple structure, which is synonymous with solidity and stability. Accessible to all, the assembly and disassembly of our elements facilitate the design of stands. As for our inflatable furniture, it inflates quickly with an inflation pump. In short, a quick deployment for an optimal efficiency of your event communication.
Ideal ergonomics: our display tools are light, foldable or removable for easy handling, and supplied with a carrying bag. Their size is reduced to a minimum in order to follow you on fairs and exhibitions and to facilitate storage in your premises.
The durability of your communication: our display solutions are reusable and give you the opportunity to communicate over time.
The multiplicity of options and accessories that complete your communication supports and simplify even more the installation of the stand, the transport and the promotion of your product or brand.
Because we master all the steps of your project, from design to manufacturing, because we accompany you and advise you from the beginning to the end, do not hesitate to call on us.
The display stand: the essential tools for a highly visible stand
To stand out among all the other exhibitors, there is nothing like a well-designed display stand. Here are the advertising tools to use to create an attractive location, visible from afar and attracting the eye of visitors: the umbrella stand, the reception counter, the inflatable furniture and the folding tent.
The umbrella stand: an ideal XXL display solution for any exhibitor
The umbrella stand is an indoor event support that allows you to delimit your stand and especially to expose your image thanks to a large format display. It is the large commercial panel that you have already seen on many stands at fairs, exhibitions, sporting events, but also in shopping malls. Sometimes, these visuals are printed on both sides. You can choose to display your logo, an image from your current advertising campaign or any other visual that is relevant to the event in question.
This stand, a real image wall, can be unfolded and folded like an umbrella, hence its name. A few minutes are enough for the assembly and the disassembling. Indeed, it is simply composed of a tubular structure (usually made of aluminum), fasteners to maintain the tubes and a personalized canvas to be fixed on this support with hook and loop tape. Once you have deployed the whole, you get a very nice visual with the image of the company, to place behind you during the arrangement of your stand.
The standard format of an umbrella stand is 3/3. This is not a measurement in meters: it corresponds in fact to the number of modules (the squares formed by the crossings between the tubes); in this case, 3 columns of 3 modules. Other formats exist: 4/3, for example. This accessory can be straight or curved. Lightweight, it is easily folded and transportable in its storage bag. You can easily install it in your vehicle. Reusable, the umbrella stand is the first essential support for your communication on a show or an exhibition because it allows you to be spotted immediately, to catch the attention of your prospects and to welcome them on a pleasant place.
The inflatable tent: a giant shelter to extend your visibility
Positioned at the front of your booth during an exhibition, the reception counter is an effective complement to the umbrella stand. Designed in your brand's colors and matching the rest of the stand, it is a point of exchange with your prospects, attracted by the attractive visual and your company's name.
These reception desks, of various kinds, are simple and quick to install. First of all, it can be an umbrella reception counter, whose assembly principle is the same as that of the umbrella stand. It consists of a light aluminum structure to be assembled, a central shelf to put your goodies and a horizontal tray on which your customers can write, put their smartphone or enjoy a demonstration of your products. You can also put your flyers and brochures. The front of this desk is covered with a canvas representing your company'svisual identity and hiding the interior shelf. At the end of the show, this foldable and mobile stand can be easily dismantled and stored in its transport bag (usually with wheels).
You can also choose an inflatable reception counter. Cylindrical in shape, it is very easy to set up on your stand: you just have to fix thepersonalized envelope, once inflated, on a base placed on the ground, thanks to a hook and loop system. Some models are backlit, which ensures maximum visibility in particular situations (evening, crowded hall...).
Whether the reception counter is inflatable or tubular, it is an essential reception post to attract and inform your target. Moreover, it enhances the visual aspect of your stand.
Inflatable furniture: comfortably establish your reputation!
Need a big, bold statement? Then you've come to the right place. The inflatable furniture is indeed a must, on a trade show: you are immediately spotted, among the many exhibitors. This type of mobile furniture enchants the public and allows you to communicate in large format. An inflatable sofa with your colors or a pouffe with your logo are unusual and unmissable advertising objects.
These pieces of furniture inflate in a few minutes and attract the eye to your stand. An inflatable chair and even a sofa are easy to transport thanks to their lightness. All of these items are of course customizable. Once your stand is set up, all you have to do is use your inflator, cover the structure with its personalized cover according to your visuals and that's it!
The inflatable furniture offers you a cosy space to welcome your customers and prospects in an original way or to receive them in all conviviality so that they rest during their visit. This will allow them to notice your company and your entire stand. These ephemeral furniture, once deflated, take very little space and are reusable. The inflatable furniture brings a great dimension to your presence during an exhibition.
The inflatable tent: a giant shelter to extend your visibility
White or customized according to your graphic charter, the folding barnum is a shelter for your outdoor stands. This self-supporting tent is ideal for outdoor exhibitions because it protects you and your visitors from bad weather or sun.
The folding barnum is made of an aluminum tube frame, folding legs and a roof tarp (to be stretched with a crank). It sometimes includes walls on the sides, of variable width. The barnum can be unfolded, again in an "umbrella" fashion; in a few steps, your structure is set up. When the event is over, you just have to fold your barnum and put it back in its storage bag. Easy to transport, it is reusable.
In addition to its practicality, the folding tent with your company's colors allows you to stand out from other exhibitors and to immediately catch the attention of your customers and prospects. Your visual identity is thus reinforced. Do not hesitate to choose a folding advertising tent for all your outdoor or indoor events!
Whether the reception counter is inflatable or tubular, it is an essential reception post to attract and inform your target. Moreover, it enhances the visual aspect of your stand.
These display accessories will actively participate in your visibility and allow you to better promote your company.