Home > POS
Point-of-sale advertising and inflatable displays.
We have developed a complete range of inflatable advertising that can be used for your communication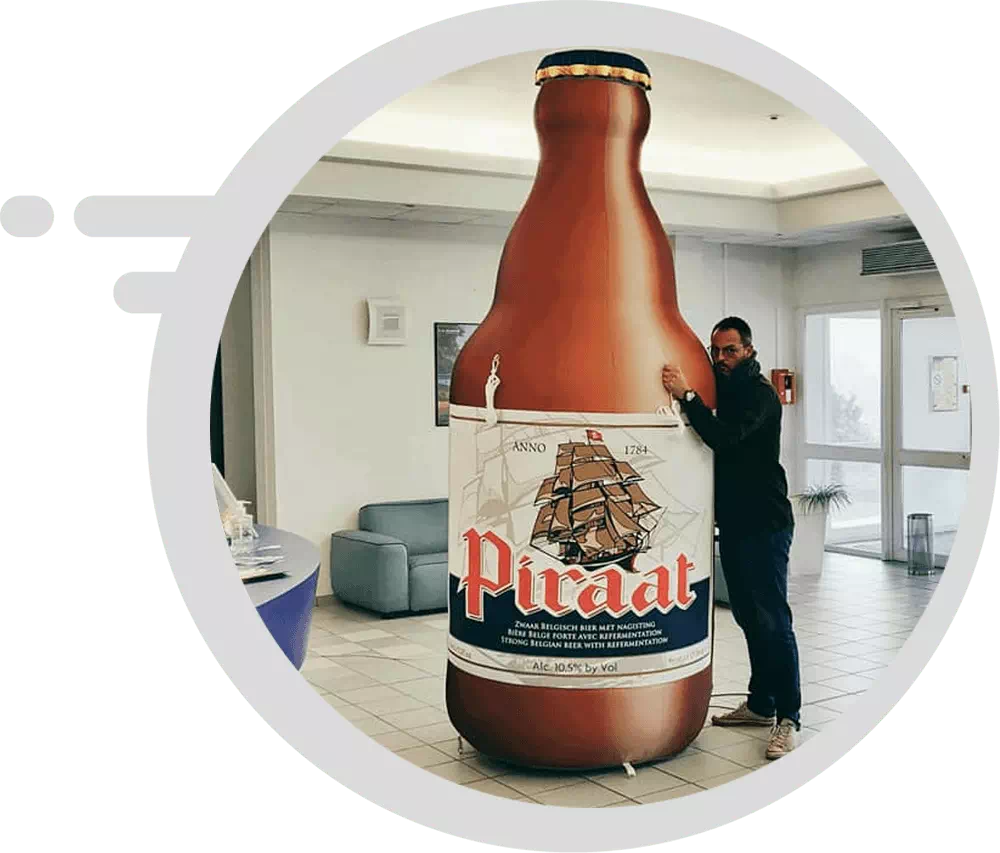 ASK FOR OUR CATALOG
Fill out the form below
to automatically receive our product catalog.
Inflatable structures and POS
Point-of-sale advertising or POS can take many forms (posters, flags, displays).
PUBEO SAS has chosen to stand out from the competition by offering inflatable POP displays (air or helium). Our company, a major player in the inflatable POP sector, allows you to set up a product that is simple to use, easily transportable and storable.
Inflatable point-of-sale advertising has a single objective: it allows you to stand out from the crowd, to improve your communication, to optimize your marketing operations and to convey a powerful message to a larger number of people.
According to the French institute of communication and advertising at the point of sale (POPAI), more than 50% of purchases are motivated on the spot!
The POP is therefore an undeniable asset for all your commercial animations, whether it is a promotional campaign or a launch offer.
Giant advertising balloons (air or helium)
Helium-filled advertising balloons are flying inflatables, and air-filled advertising balloons are structures that must either be placed or suspended.
Balloons to be placed on the ground or hung up
There are two types of inflatables:
Inflatables with a permanent blower, also known as self-ventilated inflatables. The air is sent continuously, which requires an electrical outlet nearby.
Inflatables without blowers, which are called "captive air". They are airtight and only need to be inflated once with an electric inflator.
Some advantages of inflatable displays
Inflatable POS offers a lot of flexibility.
Indeed, whether it is on the ground (air inflation or self-ventilated with an electric blower) or flying (helium inflation), the inflatable advertising will be in line with your graphic charter and faithful to the image of your product (giant reproduction of your product).
In short, with inflatable advertising, everything is possible, the only limit is your imagination. Do not hesitate to contact us for any questions you may have.
Simple to use and easy to carry.
Inflatable POS is easy to use (one person can set up our inflatable advertising).
The structures, once deflated, do not take up any space (which makes transport and storage easier) and are economical because they can be reused!