Home > Inflatable Structures > Inflatable Arch
Discover the inflatable advertising arches.
Inflatable arches are essential inflatable structures for outdoor events: sports races (start/finish) or to delimit the entrance of a space (festival, fair, exhibition)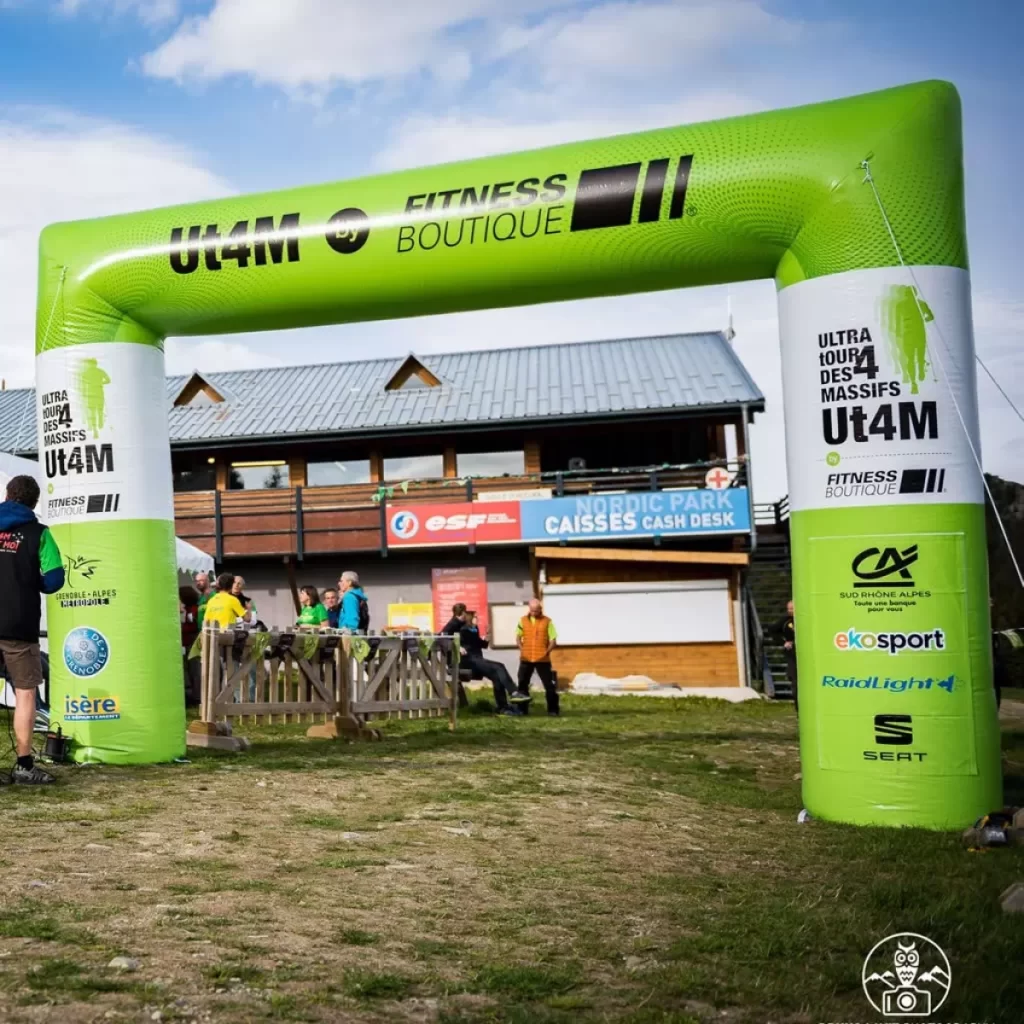 REQUEST A FREE QUOTE
for inflatable arches
Fill out the form below
to receive a quick quote.
Our customizable self-ventilated arches.
Real signage tool, the inflatable advertising arches are perfect to animate your events, the start or the finish during a race for example.
We offer different types of arches to best suit your needs.
Increase your visibility thanks to an all-terrain communication, original and spectacular products, think about it!
Real signage tool, the inflatable advertising arches are perfect to animate your events, the start or the finish during a race for example.
We offer different types of arches to best suit your needs.
Increase your visibility thanks to an all-terrain communication, original and spectacular products, think about it!
Attract attention, highlight your strategic points, increase the visibility of your brand and your partners with our customizable inflatable arches. Easy to transport and quick to set up, our inflatable arches come in a variety of shapes and sizes and are effective communication tools for all your events. You can personalize our arches with direct printing, interchangeable covers or velcro strips.
Optional stabilizer feet can be added to increase the stability of the arch.
Some examples of inflatable arches
If you are still unsure about the shape of your inflatable arch, here are some examples. You will certainly recognize well-known signs and may find inspiration for a personalized inflatable arch with or without advertising. We can also guide you.
Our customizable self-ventilated arches.
Install your brand and your universe as close as possible to your commercial events. Our range of inflatable advertising arches offers adaptable and original solutions to better meet your expectations! 
Designed in PVC, the custom inflatable arch is ideal for your sporting events: running, cycling and cultural events.
Depending on your needs, we can offer you a permanent blower advertising support (requires a continuous power supply to maintain the inflation of the arch) or "captive air" (it is here to inflate once the advertising arch with an external inflator, like an inflatable mattress, so the arch remains inflated without any blower).
Our system of removable banners on velcro will allow you to easily change the advertising messages to be transmitted at a lower cost.
The price of a velcro tarpaulin is very low, it is possible to create several sets of customizable messages for the same arch.
Your inflatable arch can be used as a finish line or starting line of a race, or used in other types of sports as a support for communication for your customers or sponsor logos
To increase the visual impact of the start or finish of a foot race for example, it will be possible to add a removable banner "start/finish" below the horizontal crossbar of the advertising arch.
You will have understood, the major asset of this type of inflatable advertising is the extreme customization. Its size and shape are of course customizable, but you will also have the freedom to choose the different colors, background colors, customization and marking of removable banners ... You will have all the elements to highlight your brand and capture the eyes of visitors.  
Once your operation is over, it is very simple to deflate your arch, fold banners and store everything in a dedicated transport bag.
Our inflatable advertising arches are available in several shapes: rectangular, cutaway (also called polygon arch) or rounded. They will lend themselves to all types of printing: total or partial printing with velcro bands. This will allow you to change your communication according to your event.
We are at your disposal for any information regarding inflatables, we will answer you as soon as possible.
Information and technical details for an advertising arch
Product details
The self-ventilated advertising arches, as well as most of our custom inflatables, are made of a lightweight, durable PVC cover.
We can print your logos on the whole surface of the arch, a printing on bands with velcro can also be considered.
Reinforced fastening rings are provided for the guying of the structure to maintain the quality of the arch. 
You have a sleeve for inflation and deflation as well as an electric blower (permanent blower), we also propose for the structures with captive air (not ventilated) with a classic electric inflator (you inflate and you close the valves).
All our inflatables are supplied in a carry bag.
We also provide a guying kit (ropes + stakes + hammer).
Storage recommendations by your supplier: Store your inflatable arch in its transport bag and in a room protected from humidity.
Technical information
The color is to be defined according to your desires and needs: Choice according to the palette or Printing on the entire structure
Each inflatable arch is customizable according to your advertising needs. Based in France, our team will answer your questions. We can help you determine the shape, weight, dimensions, colors, and price implications of the inflatable arch.
Available sizes & shapes
We offer inflatable arches of different dimensions to be defined according to your customer needs.
Possible forms:
Arch with cut sides
Rectangular arch
Rounded arch
Custom arch
Available size - Height
Small : W 3m x H 2.40m x ∅ 0.80m
Medium: W 4m x H 3m x ∅ 0.90m
Width: W 6m x H 4m x ∅ 1.30m
Extra Large: W 8m x H 5.50m x ∅ 1.60m
Options for your inflatable arch
Horizontal stabilizers (price according to the size of the inflatable arch)
Electric air inflator for captive air versions
Additional bands on velcro with printing (rates according to surface). It is also possible to provide a marking with your company colors and / or with the logo of your sponsors. 
LED backlighting system
Technical constraints
Every effort is made to ensure that the visuals conform to the files you are uploading, it is obvious that the visuals will be slightly distorted due to the fact that the inflatables have rounded shapes.
However, variations may occur at the time of printing, in particular due to technical limitations of color rendering on your computer equipment, if necessary, specify the desired pantone.
Delivery times & payment methods
The delivery time: count 20 days or more according to the quantities, we must also receive the estimate as well as the good to print with the mention "good for agreement", the signature, the date and the stamp.
Delivery method: delivery by carrier (pallet) or by UPS (single carton)
Payment: balance at the order or by check at reception with the deliverer
Discover the other products in our "inflatables" range