Home > Inflatable Structures > Custom Structures
Create an inflatable structure with the image of your product
We create giant inflatable dummies with the image of your product: inflatable bottle, cosmetic bottle, mascot, giant paint can. Everything is possible!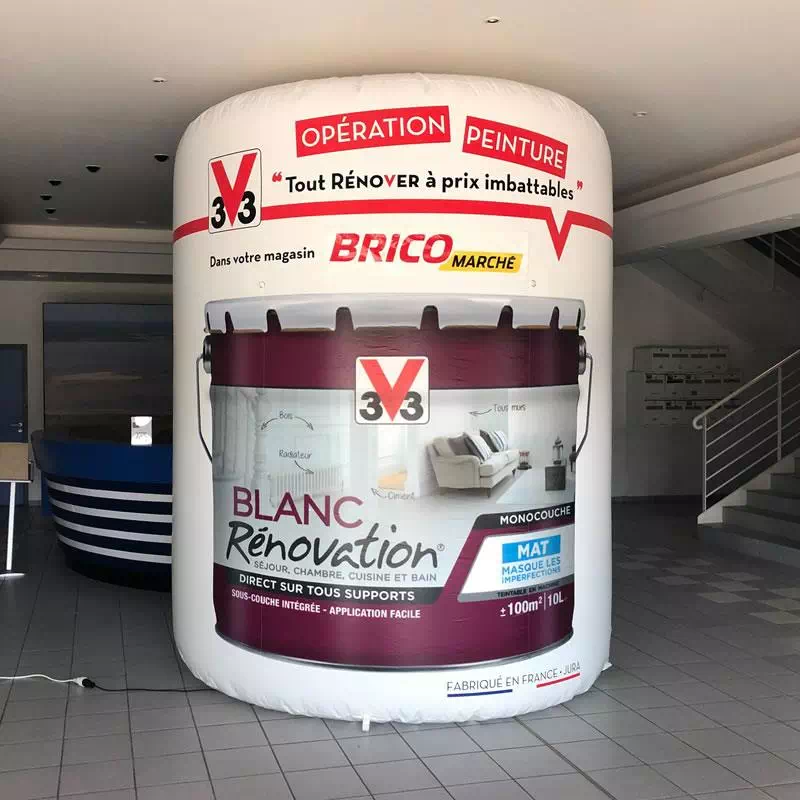 REQUEST A FREE QUOTE
for an inflatable dummy
Fill out the form below
to automatically receive our product catalog.
Inflatable structures made to measure and on demand
The custom inflatable self-ventilated is a means of communication adapted to your commercial events, all shapes are conceivable! A mascot, a bottle, a telephone, a house, etc...
The marking is made by printing, we can also provide logos on velcro.
Develop your visibility power and your commercial actions thanks to customizable and original self-ventilated shapes, so don't hesitate any longer, contact us!
A self-ventilated inflatable with the effigy of your product.
The special self-ventilated shape is an innovative and playful concept to best represent your product or your advertising mascot during a product launch or a marketing campaign. It immediately symbolizes your brand and arouses the attention of the public.
Using a custom self-ventilated structure is the most effective way for your company to stand out from the competition.
We are at your disposal to help you realize your advertising project, we advise you on the size and materials to use.
We are at your disposal for any information concerning the special inflatable self-ventilated forms, we will answer you as soon as possible.
Information and technical details about custom inflatables
Product details
The air inflatables are made of OXFORD 600 D or nylon depending on your use.
Direct printing of your logos on the inflatable, we also offer a total printing and a printing on bands with velcro.
Fastening rings are placed on each of our self-ventilated structures.
You have a sleeve for inflation and deflation and an electric blower (permanent blower).
We supply a polyamide guy rope, 10 or 30 m spools depending on the shape and size chosen.
You have a maintenance / repair kit for your inflatable.
Technical information
We offer special shapes according to your needs. Size and format to be defined according to your product or request. Basic palette for background colors (or total covering if needed): 
Options
We offer LED electric light system.
Additional headband on velcro with printing (price according to headband size)
Technical constraints
Every effort is made to ensure that the visuals conform to the files you are transferring, it is obvious that the visual will undergo a slight deformation due to the fact that an inflatable is round in shape.
However, variations may occur, particularly due to the technical limitations of color rendering on your computer equipment, if necessary, specify the desired pantone
Delivery times & payment methods
Delivery time: about 20 days for simple design products, sometimes more depending on the complexity and quantities, we must also receive the quote and the print order with the mention "good for agreement", signature, date and stamp.
Delivery method: delivery by carrier (pallet) or by UPS (single carton)
Payment: balance at the order or by check at reception with the deliverer
Discover the other products in our "inflatables" range