Home > Advertising balloons > Mirror balloon
The ball in PVC mirror effect / silver.
A mirror effect sphere, chrome or silver to enhance your show or seminar.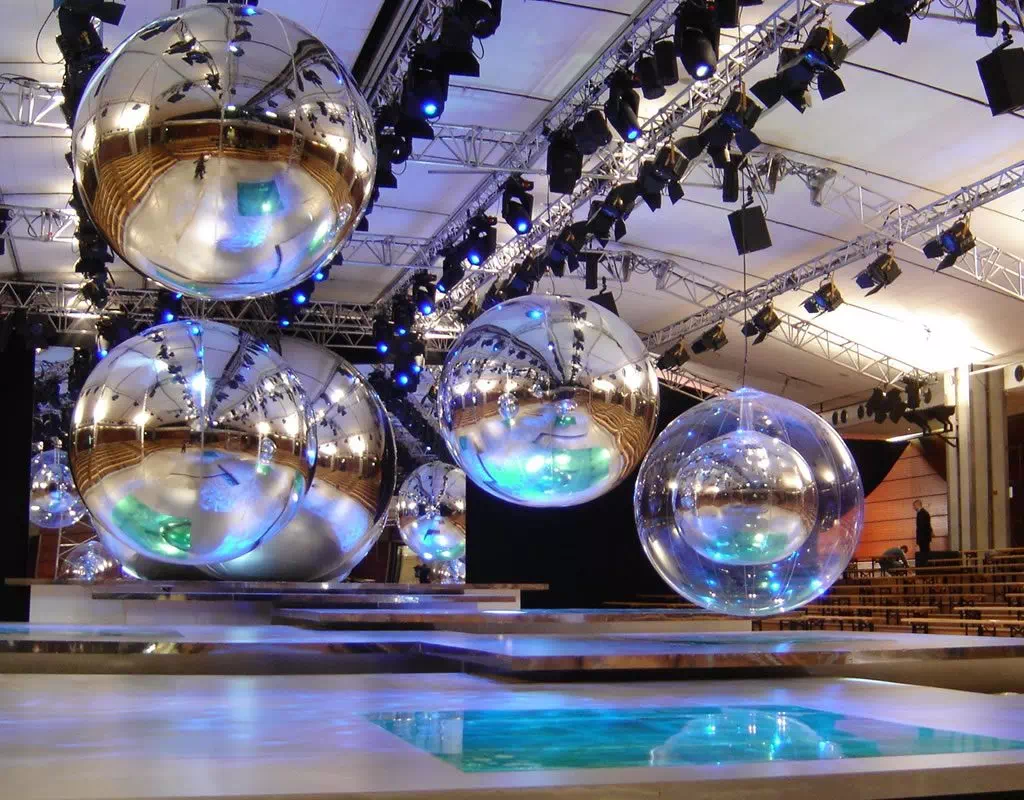 REQUEST A FREE QUOTE
giant mirror ball
Fill out the form below
to automatically receive our product catalog.
The mirror balloon: a giant balloon for your decoration
Stand out from the crowd with the decorative mirror effect sphere. 
Original and unusual, the mirror balloon embellishes your show or your commercial animation.
We offer silver bubbles in different sizes to suit your needs.
If you want to stage a commercial event or give life to an artistic project, don't hesitate to contact us!
Giant balloons as a decorative element
Discover our silver decorative balloons made of 0.35 mm PVC. They are excellent to give life and colors to your marketing operation. PUBEO offers you a series of decorative bubbles ranging from 0,80 m to 3 m with a minimum order quantity of 5 pieces.
Original and radiant, you will be dazzled by the mirror balloon. Make your animation a space of creativity and originality.
The mirror effect of the balloon gives an impression of grandeur to your showroom. Create optical illusions by playing with the colors and lighting of your venue. 
Its ultra-design metallic look allows you to highlight your products or your guests. You can use the silver bubble during a concert, a show, a commercial anniversary or a trade show for example.
The sphere inflates only with air, you can hang it or put it on the ground but in no case, it will not fly with helium. We provide a rope and an electric inflator for all our mirror effect PVC balloons.
For more information, contact us without delay and fill out the contact form, we will respond as soon as possible.
Information and technical details on mirror balloons
Product details
Our inflatables are made of 0.18 mm PVC. For structures to be placed or hung we can use thicker PVC (0.35 mm). The PVC balloons are reusable. 
We propose the printing of your logos on two sides (the background color and the locations are to be defined according to your logo).
It is also possible to make a printing on the whole surface of the balloon (total printing: for example for the realization of a globe).
Our balloons have a main attachment point located under the balloon.
For inflation (and deflation), the balloon has 2 valves with non-return valves.
We provide a polyamide rope, 10, 30 or 60 m spools according to the shape and size chosen, we also offer steel braided cable for indoor animations.
You have a maintenance kit, which includes PVC patches and PVC glue.
The conditions of use and installation are provided for each product.
Technical information
We offer balloons from 0.80 m to 3 m.
Depending on your needs, we can provide larger balloons.
Our dimensions :
Ø 80 cm
Ø 100 cm
Ø 120 cm
Ø 160 cm
Ø 180 cm
Ø 200 cm
Ø 250 cm
Ø 300 cm
Background color: to be defined according to our palette: GOLD or SILVER
Options
Electric air inflator (for inflatables to be hung or placed),
Technical constraints
Every effort is made to ensure that the visuals conform to the files you are transferring, it is obvious that the visual will undergo a slight deformation due to the fact that an inflatable is round in shape.
However, variations may occur, particularly due to the technical limitations of color rendering on your computer equipment, if necessary, specify the desired pantone.
Delivery times & payment methods
Delivery time: 10 days or more depending on the quantities, we must also receive the estimate and the print order with the mention "good for agreement", signature, date and stamp.
Delivery methods: delivery by UPS or carrier.
Payment: balance at the order or by check at reception with the deliverer
Discover the other products of our "giant balloons" range