Home > Advertising balloons >Mast balloon (without helium)
Balloon on pole (without helium) to make your stand visible
The mastair is a 100% customizable advertising balloon, inflated with air and installed on a telescopic mast. It overhangs your stand and gives it an exceptional visibility in the exhibition.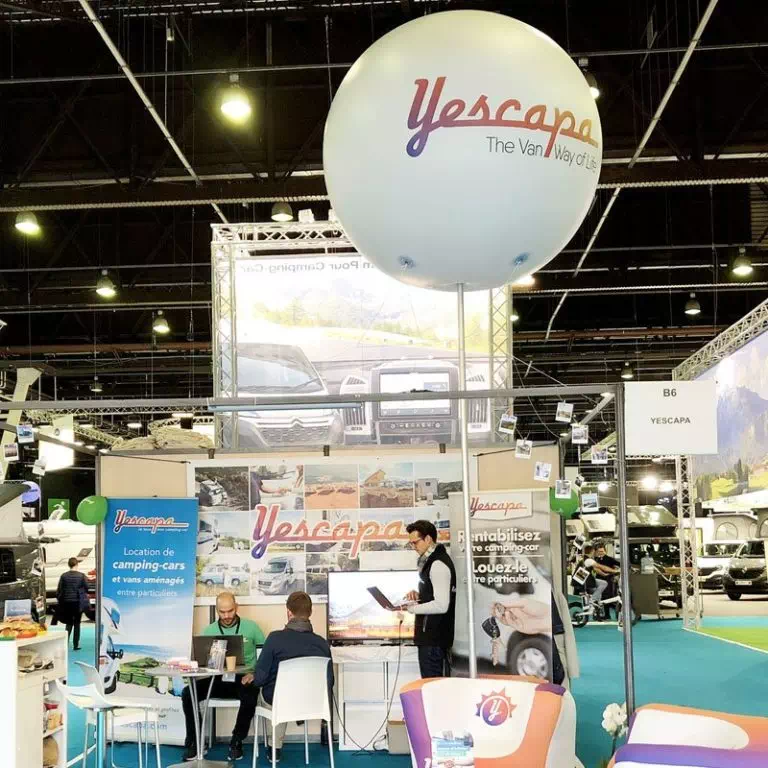 REQUEST A FREE QUOTE
Balloon on mast (without helium)
Fill out the form below
to automatically receive our product catalog.
Advertising balloon on a mast: simplicity and visibility
The advertising balloon on a mast or "Mastair" is an ideal inflatable display for many events. 
Indeed, it is its simplicity of installation, use and reuse that makes this inflatable structure ideal in different contexts: trade shows, commercial operations, open houses, festivals or other specific animations.
The tethered air balloon is easy to implement because it does not require helium but simply an electric inflator. You can personalize this advertising balloon with the colors of your company or your brand by affixing the logo on both sides or by requesting a full print on the entire advertising sphere.
Advantages of the balloon on a mast
This type of giant advertising balloon without helium offers an essentialvisibility during an event or a demonstration inside or outside. Indeed, its proportions and its playful design immediately attract the eye of the passers-by or the visitors present. 
Used in front of a booth for example, it allows you to be easily and quickly identified. Visitors who are looking for your booth at a trade show can easily spot you and come to you without wasting time. The others are attracted by this giant balloon and their curiosity can then push them to come and meet you.
The captive air balloon fulfills a double function of promotion and signage in a closed space as well as in an open space. It is appreciated for its high visibility and its customization possibilities.
Indeed, on the giant advertising balloon, it is you who chooses the color of the canvas and the printing that you wish to realize to represent at best your company, your club or your entity. Once personalized, the balloon is provided with its installation kit: the telescopic mast, the electric inflator and the transport bag.
This kit allows you to use and reuse your balloon without helium as many times as you want throughout the year, during events, fairs or exhibitions in which you want to participate. With a wingspan of 0.80 to 2 m, the tethered air balloon is easily installed and moved on its mast, the size of which can be adjusted according to the location. 
Thus, this advertising POP has many practical advantages while offering a strong promotional and advertising impact, serving small and large companies.
Information and technical details of the balloon on mast
Product details
Our advertising balloons are made of 0.18 mm PVC. The PVC balloons are reusable. 
We propose the printing of your logos on two sides (the background color and the locations are to be defined according to your logo).
It is also possible to make a printing on the whole surface of the balloon (total printing: for example for the realization of a globe).
For this model without helium, the balloon is maintained in height with an interlocking mast of 6m 
For inflation (and deflation), the balloon has 2 valves with non-return valves.
You have a maintenance kit, which includes PVC patches and PVC glue.
The conditions of use and installation are provided for each product.
Technical information
We offer balloons from 1.00 m to 2.00 m. Dimensions:
Ø 100 cm
Ø 120 cm
Ø 140 cm
Ø 160 cm
Ø 180 cm
Ø 200 cm
Background colors to be defined according to our palette:
Options & Accessories
Accessories included:
The balloon is supplied with a transport bag, a 6 m interlocking pole and a ground plate.
In options:
Electric air inflator (for hanging or standing inflatables)
Authorizations for helium balloons
An authorization from the Direction Générale de l'Aviation Civile is required for outdoor use (only for helium-filled balloons)
Technical constraints
Every effort is made to ensure that the visuals conform to the files you are transferring, it is obvious that the visual will undergo a slight deformation due to the fact that an inflatable is round in shape.
Every effort is made to ensure that the visuals conform to the files you are transferring, it is obvious that the visual will undergo a slight deformation due to the fact that an inflatable is round in shape.
Delivery times & payment methods
Delivery time: 10 days or more depending on the quantities, we must also receive the estimate and the print order with the mention "good for agreement", the signature, the date and the stamp.
Delivery methods: delivery by UPS or by independent carrier.
Payment: balance at the order or by check at reception with the deliverer
Discover the other products of our "giant balloons" range