Home > Advertising balloons > Airship
Our inflatable advertising blimps.
Inflatable blimps offer a better wind resistance than a classic round balloon. Their shape allows them to be placed facing the wind to display your message.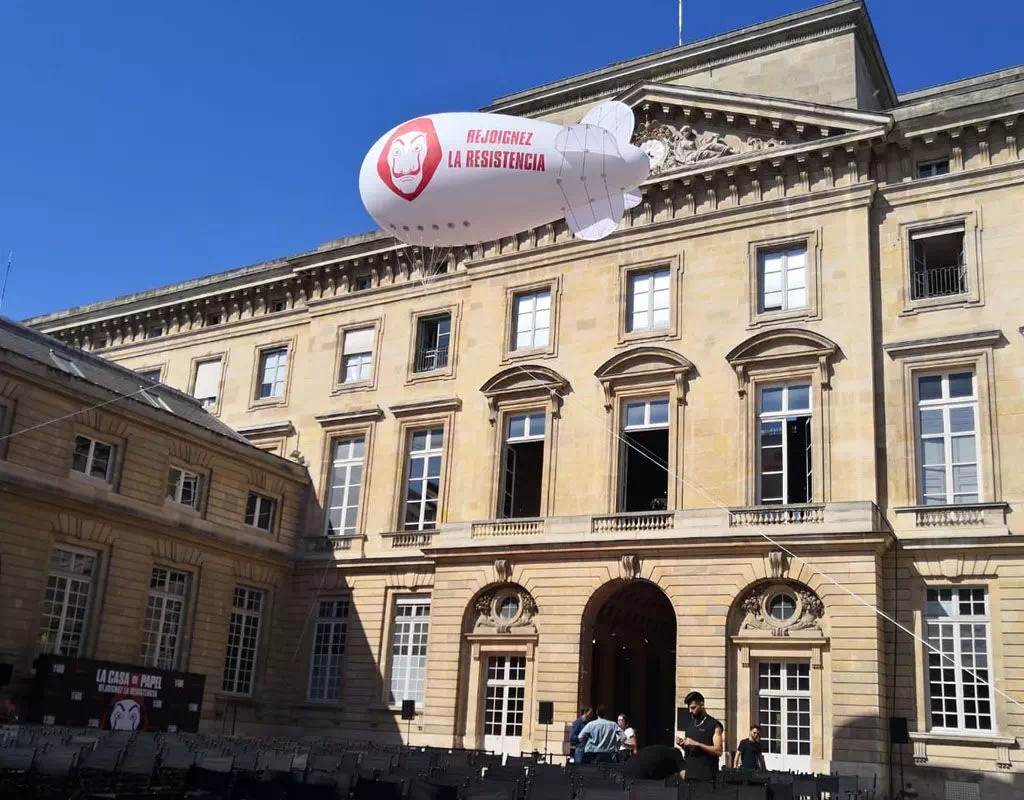 REQUEST A FREE QUOTE
Giant helium balloon
Fill out the form below
to automatically receive our product catalog.
Our airships.
Ideal for your open days or your store openings, the helium blimp gives exceptional visibility to your brand!
We offer advertising blimps from 3 to 6m in length.
Like all our advertising balloons, the PVC envelope is fully customizable.
Our helium advertising blimps.
Like all helium inflatables, the bl imp is a suitable means of communication for your outdoor commercial events (store openings, open days or product launches). Our blimps allow your brand to be located easily and are an asset for your visibility.
Both indoors and outdoors, you will never go unnoticed, in fact, we offer dimensions between 3 and 6m in length to ensure optimum efficiency during your animations. The dirigible balloon offers a large printing surface and up to 360 °.
Discover our range of customizable blimps to promote your image all year round. For indoor use, we recommend 3 and 4m airships, and for outdoor use, 5 and 6m airships.
We are at your disposal for any information relating to advertising airships, we will answer you as soon as possible.
Information and technical details on advertising balloons
Product details
Our advertising inflatables are made of 0.18 mm PVC. For air-inflated structures (to be placed or hung) we can use thicker PVC (0.35 mm). PVC balloons are reusable. 
We propose the printing of your logos on two sides (the background color and the locations are to be defined according to your logo). The colors of the fins must be united. It is also possible to print on the whole surface of the balloon (total printing: for example for the realization of a globe).
Our balloons have a main attachment point located under the balloon.
For inflation (and deflation), the balloon has 2 valves with non-return valves.
We supply a polyamide fixing rope, 10, 30 or 60 m spools depending on the shape and size chosen.
You have a maintenance kit, which includes PVC patches and PVC glue.
The conditions of use and installation are provided for each product.
Technical information
We offer airships from 3m to 6m. According to your needs, we can provide customized balloons.
Available background colors   
Options
Helium
We offer helium for rent through our suppliers, contact us to locate a gas dealer near your event.
Options 
Additional fins.
1.50 m connection hose (connection between the cylinder and the inflatable).
Electric air inflator (for hanging or standing inflatables).
Authorizations for helium balloons
An authorization from the Direction Générale de l'Aviation Civile is required for outdoor use (only for helium-filled balloons)
Technical constraints
Every effort is made to ensure that the visuals conform to the files you are transferring, it is obvious that the visual will undergo a slight deformation due to the fact that an inflatable is round in shape.
However, variations may occur, particularly due to the technical limitations of color rendering on your computer equipment, if necessary, specify the desired pantone.
Delivery times & payment methods
Delivery time: 10 days or more depending on the quantities, we must also receive the estimate and the print order with the mention "good for agreement", the signature, the date and the stamp.
Delivery methods: delivery by UPS, Chronopost or Colissimo
Payment: balance at the order or by check at reception with the deliverer
Discover the other products of our "giant balloons" range