Home > Advertising balloons > Tripod balloon
Giant balloons on tripods
Giant advertising balloons inflated with air and installed on a tripod (balloon without helium)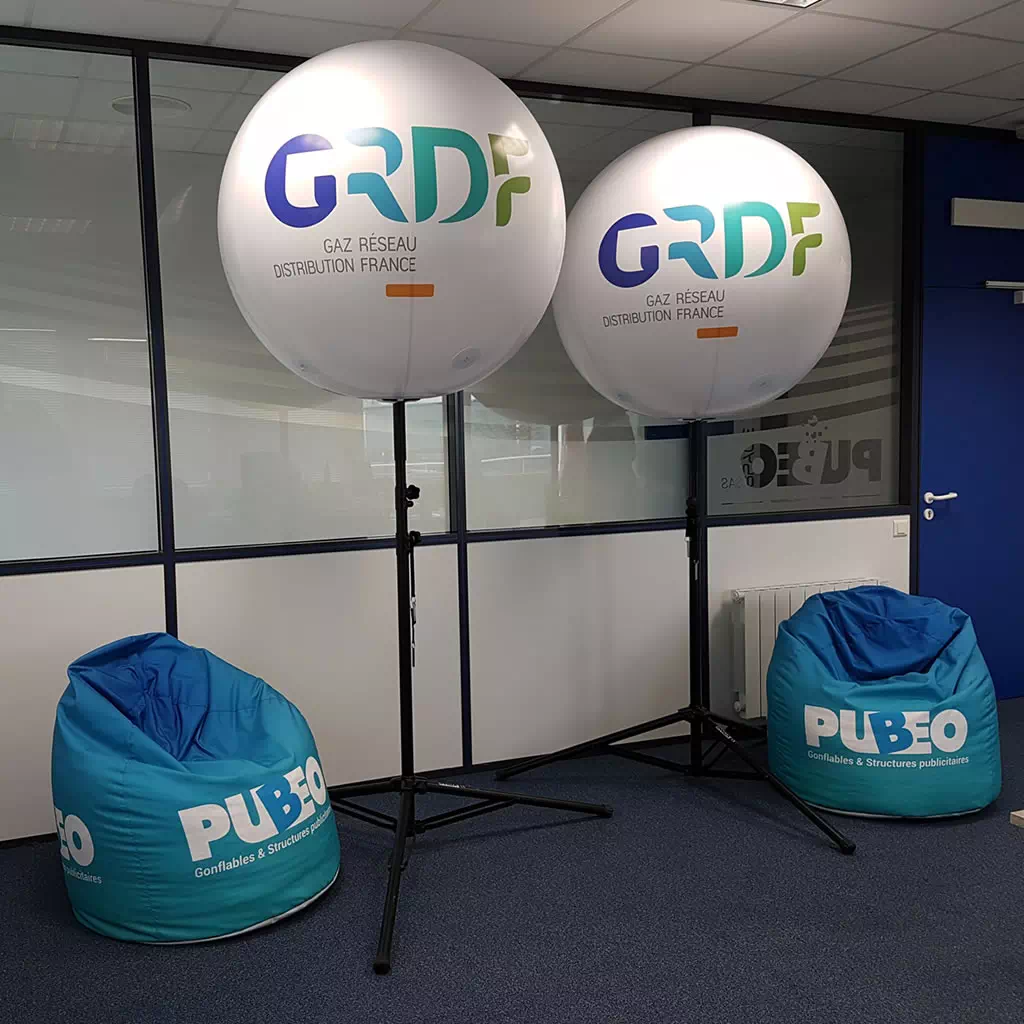 REQUEST A FREE QUOTE
Balloon on tripod
Fill out the form below
to automatically receive our product catalog.
Balloon on tripod: Be seen!
Ideal on an exhibition stand at a trade show or at a commercial event, the advertising balloon on a tripod is an advertising medium that allows you to be quickly spotted.
Overlooking the stage, it makes you visible and identifiable quickly, while differentiating you from other exhibitors.
Without constraint, the advertising balloon, inflated with air, does not require any other equipment than the telescopic mast on which it is fixed.
Therefore, it is a POS that can be easily moved and positioned in the best place, regardless of the site where you use it.
The advantages of the tripod balloon
As with other POP advertising, the primary objective of the advertising balloon is to be seen.
Its size, originality and colors attract the eye of visitors, customers or prospects. It allows your company, club or association to be quickly identified.
The advertising balloon on tripod is similar to the helium balloon for the visibility it offers, but without the constraint of helium inflation. It allows you to be seen and to stand out from other exhibitors or competitors.
This inflatable display can be used at a trade show, a fair or an outdoor event. The inflatable balloon on tripod can be installed both indoors and outdoors and can be used on different occasions and reused during the different events that you organize or in which you participate. Fully customizable, you choose your logo, your color and the size of your balloon to best suit your communication needs.
Open houses, meetings, commercial operations, street marketing or event shows, all these events require you to promote your brand or your company. 
The tripod balloon meets this demand while imposing few technical constraints. Indeed, if some inflatable advertising displays require a minimum of equipment to be installed and maintained in place, this inflatable balloon is an easy alternative. It does not require a blower connection, power supply or hanging fixtures. It is less demanding than its counterpart, the promotional helium balloon.
Easy to install / uninstall, this tethered air balloon is a POS that you can easily carry to follow you from one event to another, all year long. Put your logo on the balloon and take it everywhere you need to be seen and noticed.
Information and technical details of advertising balloons on telescopic tripods
Product details
Tripod inflatables are made of 0.35 mm PVC.
Printing of your logos on two sides (to be defined according to the shape), we also propose a total printing (example: globe).
The maximum height of the tripod is 3 m.
The balloon is held either by a sleeve or a fixing plate
You have a maintenance kit, which includes PVC patches and PVC glue.
The conditions of use and installation are provided for each product.
Technical information
We offer balloons from 80 cm to 100 cm Dimensions: 0.80 m | 0.90 m | 1.00 m Background colors to be defined according to our palette. It is of course possible to print on the entire surface of the balloon (total covering)
Options
Electric LED system for outdoor use
Electric air inflator (for inflatables to be hung or placed),Ballast bag
Technical constraints
Every effort is made to ensure that the visuals conform to the files you are transferring, it is obvious that the visual will undergo a slight deformation due to the fact that an inflatable is round in shape.
However, variations may occur, particularly due to the technical limitations of color rendering on your computer equipment, if necessary, specify the desired pantone.
Delivery times & payment methods
Delivery time: 10 days or more depending on the quantities, we must also receive the estimate and the print order with the mention "good for agreement", the signature, the date and the stamp.
Delivery methods: delivery by UPS or private carrier.
Payment: balance at the order or by check at reception with the deliverer
Discover the other products of the "giant balloons" range