Home > Advertising balloons
Giant advertising balloons for your communication
We design advertising balloons with your company's colors. Our air or helium balloons are made of PVC and are reusable.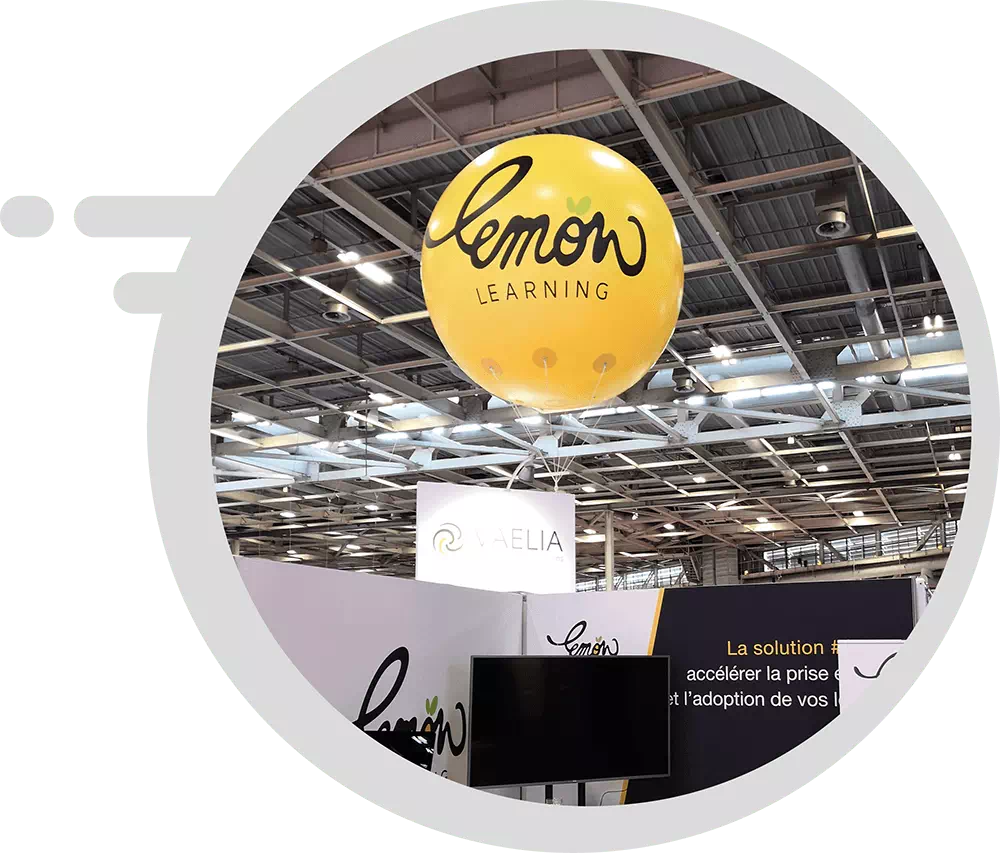 REQUEST A FREE QUOTE
giant inflatable ball
Fill in the following form, we will contact you very quickly
Advertising by helium balloon.
Inflatable advertising has become an essential communication tool for your company. It is currently the most practical and economical way to improve and enhance your brand image.
Aerial advertising allows you to establish a relationship of trust with your customers, to transmit a powerful message that will have an immediate impact, it offers a positive image to your company, brings it more notoriety and visibility.
If you want to make an impression and optimize your sales results, don't hesitate to choose our inflatable advertising products, which are an effective marketing tool to promote your company and your products.
Indeed, the installation of a helium balloon or a dirigible advertising balloon on your commercial animations arouses the interest of the public, nearly 90% of the visitors at the time of your demonstration are called by the originality and the scale of your inflatable.
Through our wide range of products, we can perfectly meet your needs, so don't hesitate to contact us, we will do our best to answer your needs!
Giant balloons: easily attract your prospects
Giant inflatable advertising balloons intrigue the public: the immediate visual impact of these custom inflatables can bring visitors to you at a trade show. Inflated with helium or captive air, the giant balloon is visible from afar and can be used at all your events.
Giant helium balloons: light and original
Helium is seven times lighter than air, so giant balloons have no difficulty rising very high. Moreover, it is a non-toxic and non-combustible gas. Note that a helium-inflatable promotional item is also air-inflatable. But helium is still very light and technically very appreciable. Small description ofhelium inflated advertising objects.
The helium balloon: the basis of your aerial signage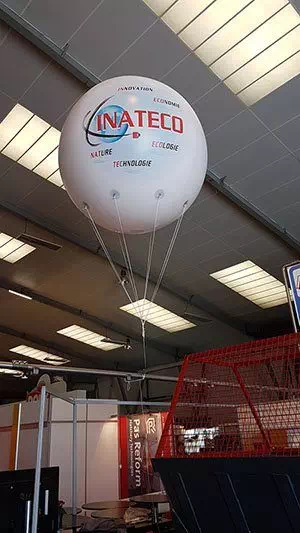 The advertising balloon is a customizable sphere that allows you to stand out at a professional event. You can use helium balloons both indoors and outdoors. Outdoor balloons are larger and rise much higher, without the constraints of an exhibition hall ceiling. Some helium-filled advertising balloons can reach heights of several hundred feet and can be seen for miles around.
The printing surface on the balloon envelope creates the possibility to print your logo or message several times. You can even personalize the entire surface ("total covering"). A helium balloon is visible from far away and attracts the public: its visual impact is perfect for your company's image.
This large helium-filled bubble is a highly visible communication medium. It is up to you to choose the size of your balloons, the background color and the personalization of the inscriptions. The advertising balloon is very popular whatever the occasion (exhibition, inauguration, open house, anniversary of your company, new product...). It can be a balloon to be put on the ground or a helium balloon to be suspended: it all depends on the desired effect.
Do not hesitate to contact us to get more details about all the technical details: the material used to design the balloon, the way your logo or other visuals are printed, the possibility to add LED lighting, the possible rotation of the balloon, the rental ofhelium cylinders and the volume of gas needed depending on the balloon, the connection, the inflation, the operation of the valves, the holding rope, the deflation, the maintenance kit...
The dirigible balloon, an incredible aerial advertising product
The helium airship is the assurance of exposing an unusual advertising object to the public. It marks the minds of visitors by its size and its exceptional appearance is the pride of exhibitors. It is mainly used outside (its length is then generally greater than 6 m) but can also impress the public during an indoor exhibition (it measures less than 5 m, in this case).
Like the inflatable balloon, the helium blimp is visible from a great distance, perched at such a height. It can be equipped with LED lighting for even greater visibility on festival nights.
The helium airship participates in your communication in an incredible way, especially at several tens of meters high! You can customize both sides with your logo or request a print in your colors on the entire envelope of the airship. This advertising airship with fins (present for its stability) gives off a lot of majesty, like the original Zeppelin. A great way toattract attention for sure! It precisely indicates your position, attracts visitors and effectively promotes your brand.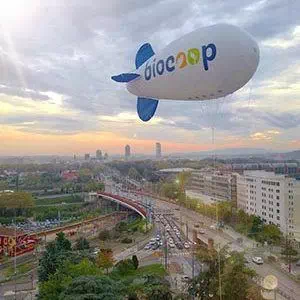 The custom helium balloon: in the image of your brand
In addition to balloons and blimps, aerial advertising signage also includes custom shapes. Thus, a custom helium balloon can fully represent one of your products, whatever it is (bottle, package of cookies, for example). It fully respects your graphic charter or can take the form of your mascot. Thus, the public identifies you immediately.
Do not hesitate to contact us to indicate the special advertising shape that you wish to use on your trade shows: we will do everything possible to help you stand out from the competition, thanks to this helium balloon with your image! Just remember that for a helium balloon to fly, its volume must be greater than the weight of its envelope. But we will study this together.
Among the most popular custom-made objects, we can mention the advertising cube and the hot air balloon.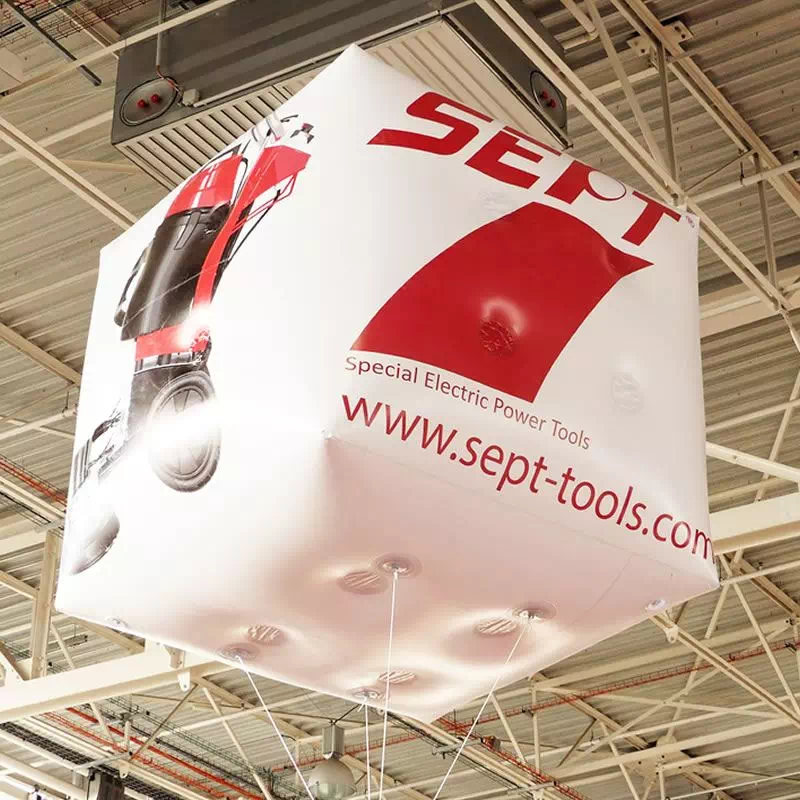 The helium advertising cube
The inflatable cube is a classic of aerial helium signage.
Its size can be very variable, consult us for more details. The advantage of this aerial advertising structure is to allow the printing of your logo on all its sides and to ensure your visibility wherever the visitors are placed. This product attracts the public to your stand and gives you the opportunity to increase your sales.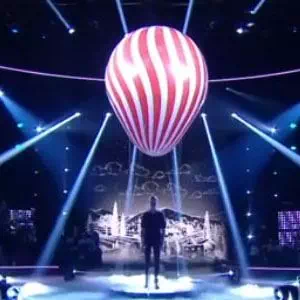 The helium balloon
A helium balloon never fails to attract attention: its atypical shape catches everyone's eye.
This inflatable structure is also customizable and can include LED lighting. It is an excellent communication product to make you known and noticed among all stands, outdoor or indoor (in the latter case, the balloon is of course smaller). Do not hesitate to contact us to know the possible sizes.
Giant tethered air balloons: multiple possibilities
Giant tethered air balloons are inflated without helium: they are not designed for it. These airtight inflatables do not require permanent ventilation, although some models can be adapted with a built-in blower. An external inflator is all you need to assemble the giant balloon. Once the valve is closed, you don't have to worry about your advertising balloon afterwards: its personalized signage will do the rest of the work, i.e. attract the public!
In some cases, for non-airtight models, the giant balloons must be self-ventilated: the air is then blown permanently inside the envelope of the balloon. This principle requires a continuous electrical connection.
The uses of a tethered air balloon are multiple and these inflatables are adapted to your needs. In all cases, they can be customized according to your wishes: with your logo or your slogan, fully colored or partially, with LED lighting also possible.
The Mastair, a high perched balloon
This type of inflatable balloon is erected on an adjustable telescopic mast held to the ground by a flat steel foot (plate). The mast is made up of several interlocking elements: you can thus adjust the total height of your mast to your liking. This advertising support ensures maximum visibility for your stand during an exhibition or a fair. It turns out that the Mastair balloon is a hybrid balloon: designed to be inflated with air, there is however a possibility of using it with helium, in certain cases. Do not hesitate to contact us for more details.
A advertising balloon on a mast is very easy and quick to install. It is reusable and ensures that you will always be noticed among all the stands. Your company's colors are carried very high and stand out from afar. This advertising sign on a pole has proven itself for a long time and is still as effective as ever. Moreover, it serves as a reference point for prospects and visitors who want to find your stand after their lunch break, for example, because you are immediately identifiable.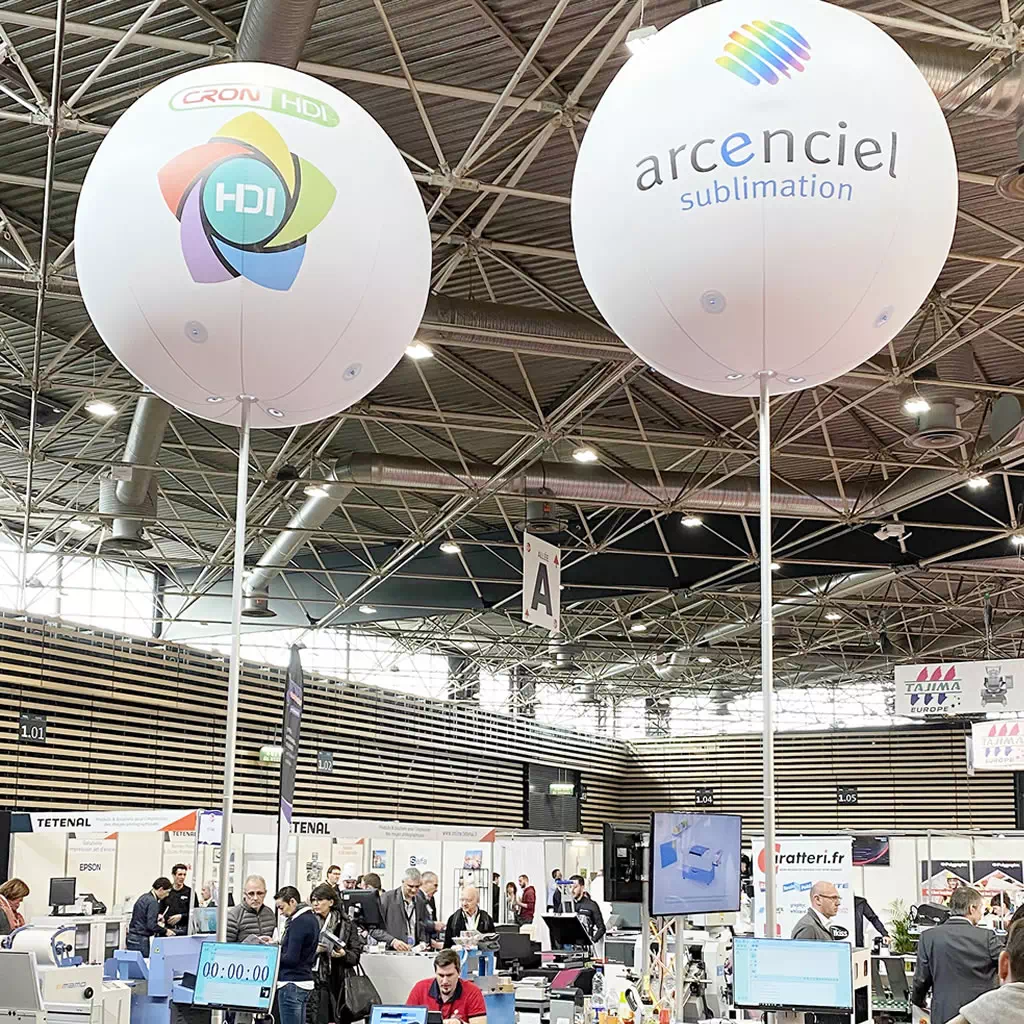 The balloon on a tripod: stability and visibility
The inflatable balloon on a tripod is also mounted on a pole. The difference, this time, is at its base: as its name indicates, it is a tripod and not a flat base. The mast remains telescopic and adjustable to adapt the structure to your liking.
This signage provides the same visibility because it is the ball that affects your brand image, not the foot of the ball. The tripod ensures a stable base for the balloon on all types of terrain. The tripod's footprint remains small and unobtrusive on your stand. Once the event is over, the tripod easily folds up for easy storage and transport.
The balloon on a tripod: stability and visibility
A LED balloon lights up your whole communication. The uses of an inflatable LED advertising balloon are multiple. The number of lumens released by the balloon light source that will be needed in your situation will depend on your objective and the event.
A " luminous " tethered air balloon is primarily for tracking purposes, so it does not require a lot of power. An " illuminating " balloon, on the other hand, is intended to provide a light strong enough to illuminate a surface, not just to be visible.
Thus, a luminous balloon has all its utility in theevent related to a night party, to your presence in closed environment among many exhibitors, to the scenography of a show or a festival or to the night decoration outside your company, for example. Film studios and television sets also use it a lot. A luminous balloon aims to attract the eye while being aesthetic: an inflatable LED object very useful to sublimate your communication!
The captive air balloon, on the other hand, diffuses sufficient light (without dazzle) to illuminate a given surface. It can be used for a very large stand or as an industrial lighting solution. The advanced technical models are adapted to nighttime work sites, for example (construction, road maintenance, site maintenance, emergency operations): they are weather resistant and allow teams to work as in daylight. For events, the customizable lighting balloon is a must for your evening commercial operations! You have maximum visibility to get noticed and attract your target.
The balloon : for a communication on the water or on the ground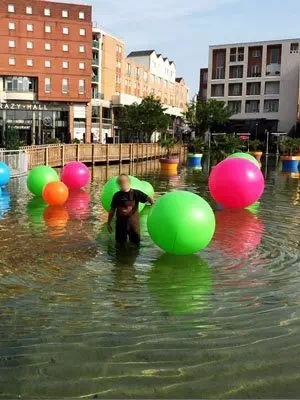 The inflatable balloon also brings you a lot of visibility. Like other inflatable advertising supports with captive air, it is customizable according to your wishes and waterproof. It doesn't require a fastening system, so its installation is simple. You can use it alone or group several balloons to accentuate the visual impact of this inflatable object, whether outdoors or indoors. Again, it can integrate LED lighting for your night events.
It has an incredible effect on the public when placed on the water, especially if you have placed several balloons: real staging is possible, for an unforgettable brand image. The public is always sensitive to a playful and festive decoration. You can also put it on the ground, for example on your stand: a simple but very effective communication, because your balloon will not go unnoticed! It is located right in front of your customers' eyes
The custom balloon: the visual power of a special shape
Tethered air balloons can take many forms, not just predefined sizes. We can make custom balloons for you, according to your needs. Do not hesitate to contact us to find out more and to tell us about your project. Because a custom-made inflatable balloon is easily associated with your brand and company name in the minds of customers and visitors to a trade show.
Among the special shapes with captive air requested are the "mirror balloon" and the "crowd balloon", each with its own function but ensuring an undeniable visual impact to your company in all cases. Here is a short presentation of these two successful models.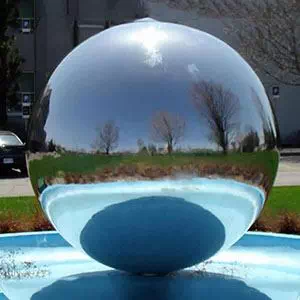 The mirror balloon
The mirror balloon is a beautiful silver inflatable balloon with captive air. Its surface reflects the light and all the surrounding shapes: your visitors see themselves in it as in a mirror and you can play with the space around you. This mirror effect sphere is a special inflatable balloon that will enhance your event in an incredible and festive way!
You can create a real show by placing several mirror balloons in a large room or on your stand. Your advertising is done in an artistic way, thanks to these inflatable silver bubbles that will dazzle your customers.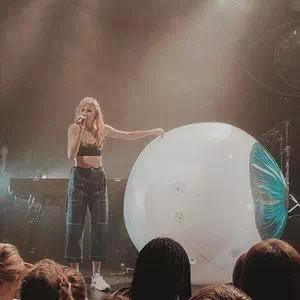 The balloon crowd
The crowd balloon is an inflatable spherical structure to be launched over the public during concerts or festivals, for example. It can be customized, of course, or remain solid in color. These lightweight inflatable spheres circulate above the audience, who jump in the air to bounce them.
The participants love this playful object and it creates a spirit of cohesion and celebration. They throw the ball between them and participate themselves to the show. Atmosphere guaranteed! You will be remembered for a long time, especially since the spectators like to take videos of these balloons (with your logo on them): your brand image is thus easily conveyed on the internet, for a memorable publicity of your company.
Giant advertising balloons, inflated with helium or captive air, are therefore an essential visual communication tool. They always attract the public and, therefore, your core target.